TBT: Bobby Labonte showed heart of a champ in 2000 Darlington win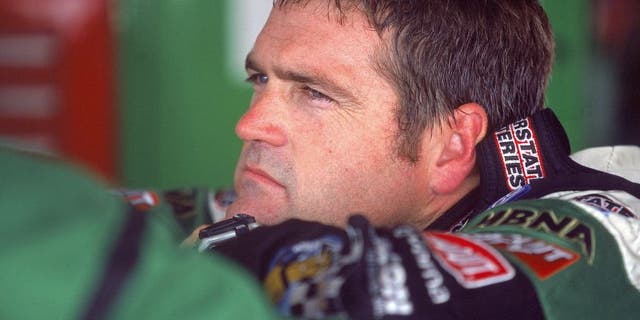 NEWYou can now listen to Fox News articles!
Bravery is something we take for granted in race-car drivers. It takes a lot of courage to wheel a car at 180 miles per hour with other cars inches away.
Even accepting bravery as a given, sometimes drivers do the extraordinary in the face of danger because that's just what they do and how they're wired.
Such was the case with Bobby Labonte in the 2000 Southern 500 at Darlington Raceway, the treacherously fast 1.366-mile egged shaped oval that's richly earned the nicknames "The Lady In Black" and the track "Too Tough To Tame."
A blindingly fast circuit, Darlington is a track that punishes drivers -- sometimes brutally so -- for making mistakes.
This weekend, Darlington gets its traditional Labor Day date back for the first time since 2003, and the track, the NASCAR community and the entire state of South Carolina have pulled out all the stops to make it a memorable weekend. The Southern 500 parade is back, at least 32 teams will run throwback paint schemes from the 1970s and 80s, and the feel is festive and optimistic.
Such was not the case in the late summer of 2000.
When NASCAR rolled into Darlington on Labor Day weekend 15 years ago, the mood was dark and bleak, and safety was the subject of a fierce and at times contentious debate among drivers, team owners, track operators and NASCAR. There were many strong opinions about safety and no consensus.
Earlier in the year, Adam Petty and Kenny Irwin died in crashes that were eerily similar: Both took place at New Hampshire Motor Speedway, albeit on different weekends, and both occurred when throttles hung wide open going into Turn 3. Irwin's death occurred on July 7, eight weeks to the day after Petty died. No one knew why the throttles stuck in either car.
During Friday's Southern 500 practice, Labonte had a similar incident at Darlington, a track where the record qualifying speed is more than 40 miles per hour faster than the record at New Hampshire.
Heading into Turn 3, the throttle hung wide open on Labonte's Joe Gibbs Racing Pontiac, and he slammed hard into the wall, which in those days had no SAFER barriers. Labonte, a stoic Texan, was shaken and bruised, but alive.
"My back is sore, but it was kind of sore beforehand, so I can't really say that was the reason why," Labonte told reporters Friday after the crash. "But it was a pretty hard hit. I can tell you it scares the heck out of you when your throttle hangs like that. I'm glad I'm standing here right now. It definitely could have been a lot worse."
With the deaths of Petty and Irwin fresh on everyone's mind, Labonte didn't have to elaborate on the precise meaning of "a lot worse." All who were there knew.
As for the explanation of what happened and why, Labonte had none.
"It was just a freak deal," he said. "The throttle did hang on it and got in the wall there going into (Turn) 3. We can't find out why, don't know why, probably never know why. It did it this time. It won't do it again. We tore up a good race car and know we've got to go to a backup car and just do the best we can."
After his crash, Labonte got one lap of practice on Friday in his backup car, and wound up qualifying 37th in the 43-car field.
But then the damnedest thing happened: Labonte went out and won the Southern 500. The Texan didn't have the fastest car -- by his reckoning it was about a fifth-place car -- but Labonte used two fast pit stops and some good fortune and maybe even a rain dance to win the Southern 500 over Jeff Burton, Dale Earnhardt, Jeff Gordon and Dale Jarrett.
Rain shortened the race from a scheduled 367 laps to 328, with Labonte leading only 10 laps, including the final eight. On his final pit stop, Labonte came in fifth and left first, thanks to a 14.8-second pit stop, which in those days was extraordinarily fast.
The quick service got Labonte the victory, which in turn helped propel him to his only NASCAR Premier Series championship.
"It was just one of them days," said third-place finisher Earnhardt. "And then the rain clouds came from the right direction for the right guy."
After his victory, Labonte admitted the Friday crash shook him up.
"I was praying pretty hard right before that wreck," he said. "I don't know if you know the story or not, but I got out and I was running back to the truck to make sure we got the backup car out and I went into the NASCAR trailer and I asked Buster (Auton, NASCAR official), I said, 'Could you give me a ride to the infield care center, because I'm not sure I feel very good?'"
Labonte, a man of few words, didn't mince many this time.
"It was a scary thing. There's no doubt about it," he said of the crash. "I was seriously praying at that point and time, and I saw a lot of stuff happening. It was a hard enough hit for me to be hurt. But the positive part was that I'm physically fit enough or it wasn't enough of an angle, or speed, or it was glancing enough, that it didn't have any bad effects.
"I think that was pretty important that we came away with positives out of that, because it would have been a lot worse," Labonte said. "I've been here before and I'm actually one for three. I've broken two shoulder blades here in two different wrecks, and I got out and I was like, 'Hey, I ain't got no broken shoulder blades, so I'm up now.' So I know how bad it could have been after what happened last year last spring. So the positive thing there was that I was able to drive. But it's going to be kind of hard to top the win. But to go through all the adversity of starting 37th ... I didn't really think we had a shot at winning, that's for sure. I thought we had a shot for a good race. But to win the Southern 500 ... "
"I certainly think it shows the strength of our race team," said Labonte's crew chief, Jimmy Makar. "We had some obstacles thrown at us that were hard to overcome. And I think what it proved is that we've got a great race team that 's got a lot of dedicated individuals that can rise to the occasion when it's called for. We could very easily have come out here and finished fifth and been satisfied."
But that's not what Labonte did. Labonte and his team overcame whatever residual fear, physical pain and uncertainty that they were dealing with and went out and won of the sport's biggest races under challenging circumstances and against top-notch competition.
Was it an act of transcendent bravery and courage?
Maybe.
But more likely, it was just what any champion racer would do.