Talladega a fitting stop to recall Robert Yates, Davey Allison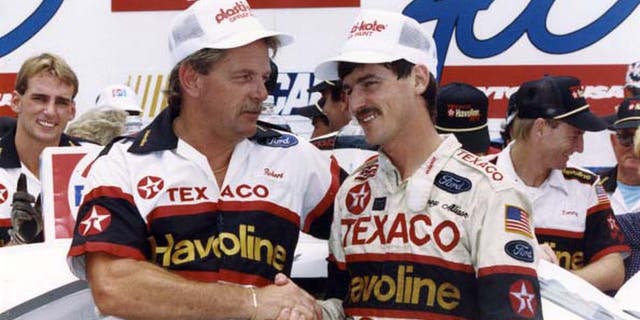 Its fitting that NASCAR his heading to Talladega Superspeedway this weekend to start the very busy month of May.
Robert Yates and the late Davey Allison are two of the 20 individuals under consideration to be inducted into the NASCAR Hall of Fame Class of 2018. Voting for the five members of the 18 class takes place May 24 and Yates and Allison will certainly figure prominently in the debate about who should get in.
As for the timing, Talladega is a special place for both Allison and Yates.
Allison scored the first of his 19 career Cup victories at Talladega in the 1987 Winston 500.
That was the race where Bill Elliott set the all-time NASCAR qualifying record of 212.809 miles per hour. It was also the race where Daveys father, Bobby Allison, cut a tire, sending his Buick airborne and into the catchfence in a horrifying moment.
In that race, Davey outdueled Terry Labonte and Dale Earnhardt to score his huge first victory. He would go on to win twice more at Talladega before perishing at the track in a 1993 helicopter crash.
As for Yates, the legendary engine builder and team owner who is battling liver cancer, Talladega is where Robert Yates Racing won its 57th and final Cup race. The date was Oct. 2, 2005, when 1999 Cup champion Dale Jarrett took the victory in a green-white-checkered restart.
And with Roberts son Doug heading up Roush Yates Engines, the Ford contingent will be among the favorites to win on Sunday.