Super Bowl-winning running back indicted in drug trafficking ring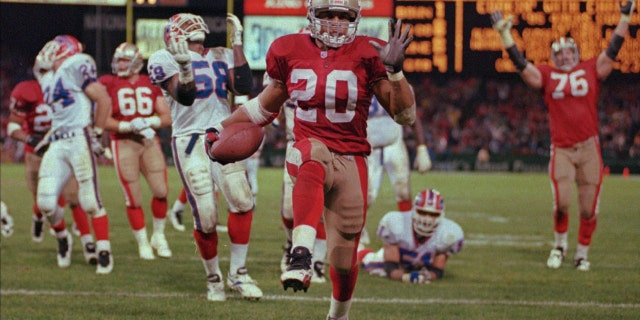 A former Denver Broncos running back who won a pair of Super Bowls with the team has been busted in an international drug trafficking, sports gambling and money laundering ring that included threats to debtors like showing them beheading videos, authorities said.
Derek Loville, 47, who also played for the Seattle Seahawks and San Francisco 49ers during his eight-year NFL career, sold drugs in Arizona for narcotics ring whose tentacles extended into Brooklyn, according to an indictment.
Loville and 21 others were charged Thursday in a sweeping federal indictment, including the group's ringleader, Owen "O-Dog" Hanson, 33, a former University of Southern California football player who federal agents arrested last September as he finished a round of golf at a posh California country club.
Nineteen of the defendants were rounded up by the feds early Thursday morning throughout the United States.
Hanson was already in custody along with Giovanni "Tank" Brandolino, 41, who was nabbed by DEA agents in Brooklyn last October.
The last defendant, Kenny Hilinski, is still on the run in Peru.
Hanson's sophisticated operation, known as ODOG Enterprise, used the "most terrifying scare tactics" to get debtors to comply with their twisted demands, according to a man involved in the probe whose code name is Robin Hood 702.
Robin Hood 702 told The Post that he broke the case wide open for the FBI after he became a target of the drug ring, which unsuccessfully tried to get him to launder $20 million.
The traffickers sent a horrifying DVD to his Santa Monica home that showed two helpless men being beheaded by a pair of psychos wielding a chain saw and a butcher's knife.
"A family member opened the DVD thinking it was a video of her sister's newborn baby," Robin Hood 702 said. "Then she watched it and freaked out. She had nightmares for years."
Robin Hood 702's attorney, Pete Gleason, described his client as a "throwback to the golden era in this country when people weren't afraid to speak their mind and do what's right and just."
Hanson used the services of San Diego accountant, Luke Fairfield, 39, — who's also named in the indictment — to set up shell corporations to help launder the money, court papers allege.
Click for more from the New York Post.