Super Bowl celebration in Philadelphia turns rowdy after Eagles win championship
What started on the streets of Philadelphia as a joyous celebration of the Eagles' first Super Bowl championship Sunday night, quickly turned rowdy and destructive as night gave way to morning.
Boisterous fans smashed a Macy's store window, looters broke into a convenience store and other revelers flipped over a car, the Philadelphia Inquirer reported.
Three people fell to the ground from light poles and lost consciousness, while other fans were seen in an online video leaping off a hotel entrance's awning.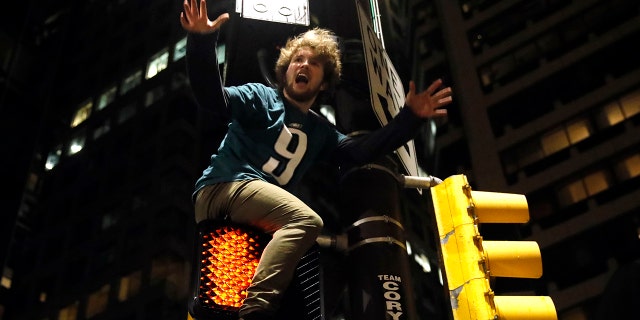 At least one car was seen ablaze in an online video.
Video posted to social media showed the awning outside the Ritz-Carlton Hotel collapsing with more than a dozen people on it, but it was unclear if there were any injuries.
Rowdy fans could also be seen looting and trashing a Sunoco gas station, with some yelling "everything is free!"
In another particularly vile moment of celebration, an Eagles fan could be seen eating horse manure off a street as a crowd of people gathered around him to cheer him on and film the spectacle on their phones.
Television footage and posts on social media showed Philadelphia on Sunday night erupting in joy after its beloved Eagles captured their first Super Bowl title -- and first NFL championship since 1960 -- by beating the New England Patriots, 41-33.
Dustin Seidman, 42, and his wife Staci, 41, told the Associated Press they decided to bring their 10-year-old son and 8-year-old daughter to the festivities on Broad Street, even as drunken fans sprayed beer and climbed trash trucks, street poles and whatever else they could find.
There were many other young kids on Broad Street, with parents weaving strollers between people and cars and some even holding infants in carriers. One youngster rode a scooter while wearing an Eagles helmet.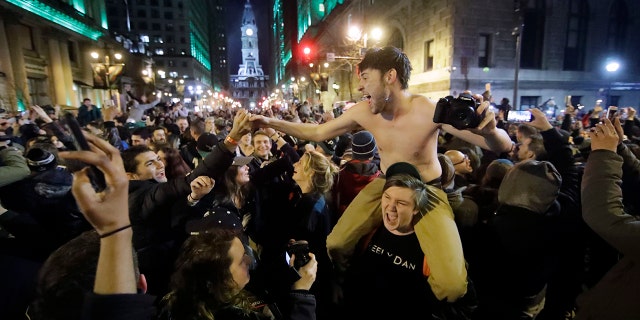 "We wouldn't miss this," Dustin Seidman said. "It's a once-in-a-lifetime experience."
FOX29 in Philadelphia said its cameras caught Eagles fans streaming out of bars in the city's Mayfair section, and fireworks could be seen overhead.
Philadelphia Mayor Jim Kenney announced the Eagle's victory parade will take place on Thurday, starting at 11 a.m. at Broad Street near the stadiums. The parade will move north along the city's main thoroughfare, past City Hall and finish at the art museum's "Rocky Steps."
The mayor added ,"tens of thousands came out and celebrated this amazing victory last night, and but for a handful of bad actors the celebration was peaceful and jubilant."
Only 3 arrest were reported and there were no fatalities, according to Kenney.
Dave Spitzer was leaving the area around City Hall as fireworks shot off and a man behind him knocked the signal off a traffic pole, but made sure to stop to shake an officer's hand as he left.
"It seems to be under control that the city hasn't burned to the ground yet," Spitzer told the Philadelphia Inquirer. "I think they're handling it pretty well."
The Eagles' victory was the city's first major professional sports championship since 2008, when baseball's Philadelphia Phillies defeated the Tampa Bay Rays in the World Series.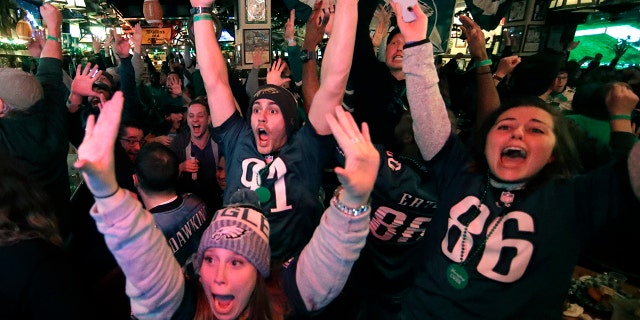 Following that victory, 76 fans were arrested and some downtown businesses were looted, the Philadelphia Inquirer reported. Officials have not yet announced how many arrests were made or how many injuries were reported during Sunday night's celebrations.
The Associated Press contributed to this report.