Subban Joins Predators Perfectly Constructed Defense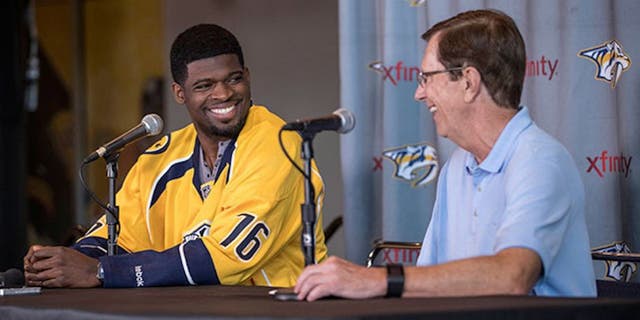 NEWYou can now listen to Fox News articles!
We all get by with a little help from our friends, right?
This fall, the Nashville Predators, P.K. Subban and General Manager David Poile will be putting that theory - courtesy of lyics by The Beatles - to the test.
On Monday afternoon from the atrium of Bridgestone Arena, Subban and Poile acknowledged the club's philosophical modification on the Preds' style of attack, one that now more than ever, involves the strength of sheer numbers to create offensive chances. With Nashville's defense as agile as it is, their GM believes he may have finally constructed the perfect personnel on defense to carry out Head Coach Peter Laviolette's system; a mode of play which uses defensemen joining - not just the rush - but even offensive zone cycles in order to create scoring opportunities.