Stuttering start for Real Madrid and Barcelona in La Liga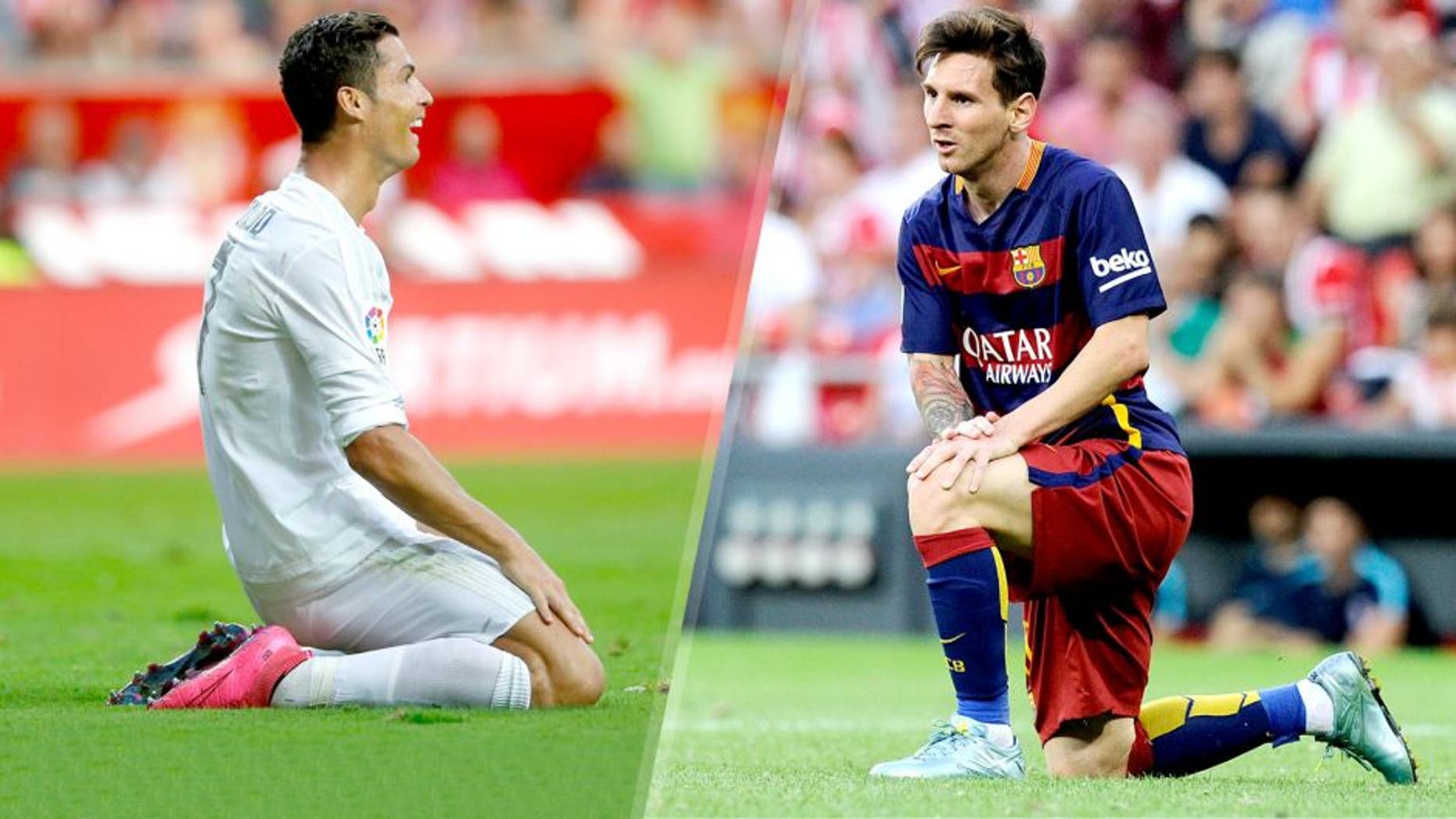 The first weekend of a league season seldom provides signposts to the shape of the next nine months that written in bold capitals, but some clues can be deciphered. Certainly, Barcelona, the defending champions, can be accurately described as improving, and rather rapidly. Their third match in nine days against Athletic Bilbao ended in victory, albeit by the minimum advantage. Given that they had only just lost 4-0 to the same opposition in the Super Cup and merely drawn 1-1 in the second, home leg of that tie, Barca are on the up, looking once more like La Liga's hardest team to beat.
We know, too, that Lionel Messi really is human. The evidence of that which he left on matchday one, at the same San Mames where his usual high standards had dropped in the Super Cup, was a fluffed penalty, which might have given Barcelona a first-half lead and made their evening more comfortable. His spot-kick, awarded for a foul on Luis Suarez, was aimed too close to the right hand of Gorka, the Athletic goalkeeper. And here's a statistic that looks very odd next to all the monumental facts and figures that gather around Messi the goalscorer, the creator, the serial winner: of the last 11 penalties he has taken, six have not been scored.
Messi had a relatively quiet match overall, although at the tail-end of the contest, he made one of those runs that reminds one, that even when he has not been center stage, his best instincts can return in the blinking of an eye. He twisted, sped and slid his way past five challenges to shoot, with Gorka again the obstacle he could not quite beat.
By then Suarez, with a sweetly-timed volley to meet a Jordi Alba cross, had put Barcelona in front. The champions had also suffered some casualties to injury, and in the positions where head coach Luis Enrique would be concerned about the quality and the depth of his cover. He made a gesture of utter exasperation when anchor midfielder Sergio Busquets was stretchered off. Dani Alves, the high-energy right-back had left the field with a muscle problem in the first-half.
"We are not having a lot of luck," said Luis Enrique, though he reported that neither Busquets' or Alves' setback seemed long-term. He will still be relieved when the senior men in defensive roles are all available. Gerard Pique is already serving a suspension that has three more fixtures to run.
For Barcelona, the encouraging aspects of a tough first date were the performances of Thomas Vermaelan, the central defender who missed almost all of last season injured, and had a poor night in the Super Cup in Bilbao. He deputized impressively for Pique, while Sergi Roberto, the young midfielder, made a very fine job slotting in as Alves's makeshift replacement, and struck the crossbar with a powerful shot at the end of one fluent Barca move. "Our full-backs give us width, and Sergi Roberto did especially well," said Luis Enrique, "because he had to adapt to a situation quickly."
The Barca coach said he was satisfied overall, a sensation which would certainly have grown over the course of the journey home from the Basque Country. Real Madrid, by a distance the strongest threat to Barcelona's retaining their title, were by then making a less than satisfactory start to that challenge and indeed to Rafa Benitez's return to coaching in La Liga.
Benitez, last employed in his native Spain when he led Valencia to his, and their, second title in two years in 2004, found himself facing many questions about the functioning and the penetration of his side. He also had some clues after today's game, after watching last season's most potent scorers across all five of Europe's major leagues -- Madrid registered 118 goals in Carlo Ancelotti's last season as coach -- travel up to newly-promoted Sporting Gijon and return with just a point from their 0-0 draw.
It might even have been worse. Sporting, thriving off the noise of supporters celebrating a first Primera Division fixture in three years and the fact the country's most decorated club happened to be the guests on matchday one, had two fine headed opportunities to win, the first of them from Antonio Sanabria pinging down off Keylor Navas's crossbar onto the goalline at angle that meant most of the ball was actually across the line.
Navas was by no means the busier of the goalkeeper but for all that Madrid peppered the goal guarded by Sporting's Ivan Cuellar, many of the more powerful efforts he saved were directed from long-range. Benitez had lined up Gareth Bale in the center, as a number 10, and though Bale had a high visibility in the role, he had only limited opportunity to use his speed to run at the Sporting defense. Luka Modric, who can expect to be given broad responsibility by Benitez, most caught the eye, while Cristiano Ronaldo, drifting from his favored left-wing position to center-forward later in the game, had less influence than he would have sought. He will not be satisfied. He, like Messi, does not often start a Liga season without a goal in his first 90 minutes.