Study reveals the New England Patriots have the NFL's 'best' fans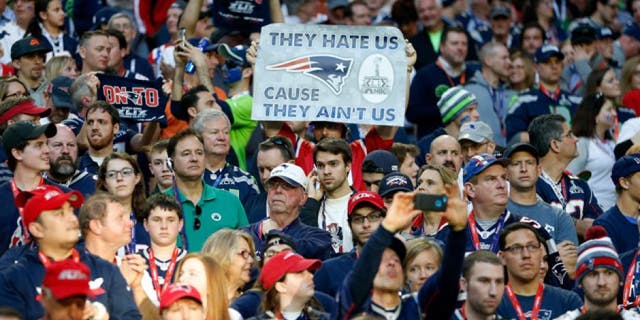 NEWYou can now listen to Fox News articles!
Not that they needed another reason to boast, but the New England Patriots supporters can gloat once again as they have been named the NFL's "best" fans, as a part of a recent study.
The findings were compiled by Emory University professor Michael Lewis, who compiled 15 years of attendance data and four years of social data using a method called Dynamic Fan Equity (DFE):
The DFE measure leverages the best features of the two measures. Fan Equity is based on the most important consumer trait - willingness to spend. Social Equity captures fan support that occurs beyond the walls of the stadium and skews towards a younger demographic.
Dynamic Fan Equity is calculated using current fan equity and the trend in fan equity from the team's social media performance.
Surprisingly high on the list? The Philadelphia Eagles. Here's why the perennially underperforming team came in at #5:
The Eagles are the big surprise on the list. The Eagles are also a good example of how the analysis works. Most fan rankings are based on subjective judgments and lack controls for short-term winning rates. This latter point is a critical shortcoming. It's easy to be supportive of a winning team. While Eagles fans might not be happy they are supportive in the face of mediocrity. [sic] Last year the Eagles struggled on the field but fans still paid premium prices and filled the stadium.
At the bottom of the list came the Bills, Rams, Chiefs, Raiders and Jaguars.
This is a similar list to last year. The Jags, for example, only filled 91% of capacity (ranked 27th) despite an average ticket price of just $57. The Chiefs struggle because the fan support doesn't match the team's performance. The Chiefs capacity utilization rate ranks 17th in the league despite a winning record and low ticket prices. The Raiders fans again finish low in our rankings. And every year the response is a great deal of anger and often threats.
Seeing the Raiders ranked so low is a little discouraging, knowing how notoriously rabid and loyal their fan base is. But Lewis ranks the Patriots over the Dallas Cowboys for similar reasons (some 700K more Twitter followers). Social influence is a major, vital factor in sports business today. Combine this with the fact that the Raiders have some of the cheapest tickets in the league, poor attendance, and poor attendance at stadiums on the road when they travel -- it's hard not to see why the proud franchise is at the bottom of this list.