Strong wants UT and OU fans to swap Cotton Bowl seats and here's why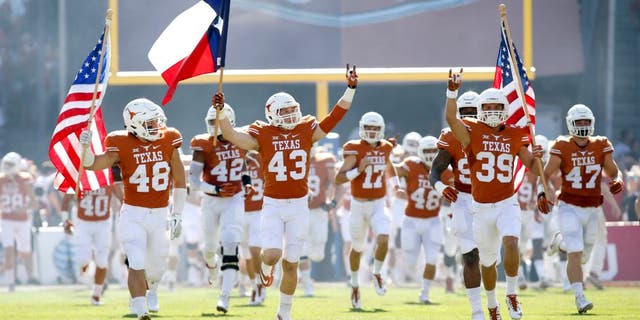 The Texas Longhorns take the field at the Cotton Bowl on Oct. 10. Tim Heitman USA TODAY Sports
Texas coach Charlie Strong has been a part of only two of the 110 games played between the Longhorns and Oklahoma Sooners, but he's seen enough to know he wants Texas and OU fans to swap seats at the Cotton Bowl.
Strong wants Texas fans to have the opportunity to sit in the south end zone, which is the side where both teams enter the field. Each year Texas runs onto the field surrounded by a sea of crimson and likely some not-so-nice words tossed their way by the Sooners faithful.
Tickets to the game are split in half with OU fans sitting in the south end zone and wrapping around both sidelines to the 50-yard where Texas fans take over and wrap around the north end zone. According to the The Oklahoman, Oklahoma fans have sat in the south end zone for as long as anyone can remember, and perhaps as far back as the 1930s. About a decade ago, Texas wanted to make the switch, but then reneged when several improvements were made to the south end to better protect the Texas players, according to The Oklahoman.
Strong would like to see the home team for the game, which rotates each year, have its fans sit in the south end zone. He let his feelings be known earlier this week when asked if his team's 24-17 win on Oct. 10 was a result of his team's growth or the emotions surrounding the rivalry.
"Well, any time it's a rival game, they're going to be amped up and they're going to have a lot of juice and they're going to have a lot of energy," Strong said. "You know, even when we took that field just to go warm up, there was a lot of jawing back and forth. I think that kind of contributed where our guys kind of got ready to go play now because we run past them, and a lot was said.
"That's why I wish they would change the end zones, so whenever we're the home team, we should get the end zone (on the south), because you think about it, every year we come out, we have to listen to their crowd, and coming through the tunnel and they're throwing stuff and talking, so our fans should get the tunnel … I don't know where you seat them but they can always switch it around."
MORE NEWS: Want stories delivered to you? Sign up for our College Football newsletters.