Striker Soldado heads to Spain to join La Liga outfit Villarreal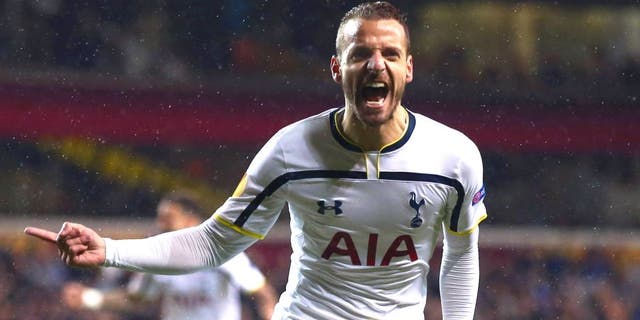 Roberto Soldado has been photographed at Gatwick Airport where he is alleged to have informed fans he was flying to Spain to join Villarreal.
The former Valencia striker's future at White Hart Lane has come under intense scrutiny after scoring just 16 goals in 79 appearances since his £26million transfer in 2013.
With Spurs hot on the heels of Ligue 1 star Clinton N'Jie, 30-year-old Soldado has reportedly moved closer to the exit door at the club, and, when spotted at Gatwick Airport on Thursday morning, apparently confirmed to fans he was headed to Villarreal to complete a move.
Spurs team-mate Erik Lamela also posted a tweet wishing Soldado luck, without naming his destination - only to later delete the post.
Spurs boss Mauricio Pochettino said last week that the Spain international "is in our plans" heading into the new season, but it appears as though the Argentinian is eager to continue to oversee his firesale at the club which has seen eight players leave for around £34million.