Steve Kerr says he could miss the rest of the playoffs due to complications from back surgery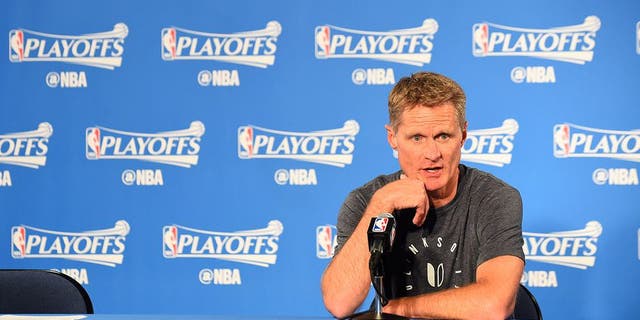 NEWYou can now listen to Fox News articles!
Warriors head coach Steve Kerr missed his team's Game 3 win over the Blazers due to what was only described as an "illness" at the time, but after reports emerged that Kerr may have been dealing with something far more serious, he surprised reporters at the team's media availability on Sunday to address his condition.
Kerr confirmed that the symptoms he's been dealing with as a result ofcomplications from a back surgery he had almost two years ago have worsened, and said that if things don't improve, he may be out for the remainder of the postseason.
"This is not going to be a case where I'm coaching one night and not coaching the next," Kerr said. "I'm not going to do that to our team, to our staff. We're hoping that over the next week or two, or whatever it is, I can start to make a definitive realization, a deduction, or just feel it that I'm going to do this or not."
When asked specifically if it was possible he might not coach again in the postseason, Kerr replied, "Yeah, I just said that."
Assistant coach Mike Brown served as the acting head coach in the Game 3 win over the Blazers, and will do so for at least one more game, as Kerr has already made the decision to miss Monday's Game 4 in Portland. But obviously, there's some concern that the condition could linger much longer than that.
"I'm hoping for some improvement," he said. "If I get some improvement, I'll get back on the sidelines. But I'm not going to do that unless I know I can help the team."
Jaime Valdez-USA TODAY Sports | Jaime Valdez