Stern warning for Nets, Knicks owners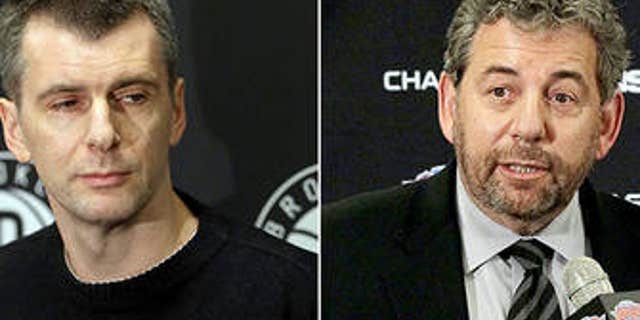 David Stern, concerned that the New York Knicks and Brooklyn Nets were being too mean to each other, called a meeting last season with the teams' respective owners to ask them to tamp down the rivalry.
No, you did not accidentally stumble into the sports section of The Onion. This really happened, according to the New York Post. The commissioner of the NBA doesn't want his teams to get into fights. We cannot make this stuff up.
The meeting, which the Post described as "cordial," brought together Knicks owner James Dolan and Nets owner Mikhail Prokhorov in an attempt to keep the growing rivalry from growing into an all-out feud. The back-and-forth spat may have come to a head when Dolan referred to Prokhorov as "that little man" after Prokhorov bought a 22-story billboard advertising the Nets within sight of Madison Square Garden. Stern apparently was worried the bad blood was becoming unhealthy.
"One source maintained Prokhorov stokes the rivalry fires because he believes the feud 'is great for both teams' and insisted it is 'not at all personal' against Dolan," the Post reports.
If Stern wants to lessen the heat between the teams, he may need to call about a dozen more quorums. Paul Pierce and Raymond Felton have added to the war of words this summer, and players on the reloaded Nets seem eager to boost the rivalry to late-1990s Yankees-Mets levels.