Steelers LB coach Joey Porter upping the pressure on Jarvis Jones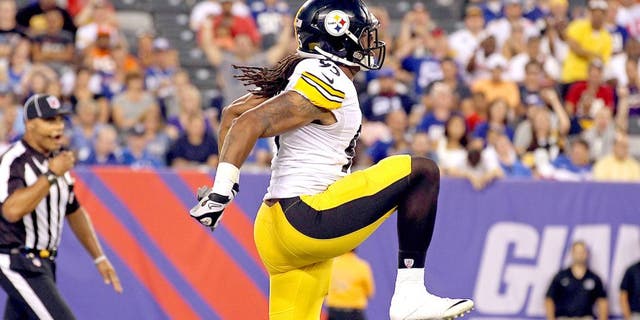 NEWYou can now listen to Fox News articles!
The Steelers really need a return on investment from linebacker Jarvis Jones this season. One of the organization's past sackmasters is going to push him to get there.
New outside linebackers coach Joey Porter says the time is now for Jones to realize his potential as a first-round pick from 2013. Jones looked like he was starting to turn the corner early last season before a broken wrist ruined his season.
"The first year was the first year, you don't judge that," Porter said via the Pittsburgh Post-Gazette. "The second year I thought you started off pretty good. You had two sacks in the first three games and then you got hurt. So they'll be patient with you then.
"But please believe they're counting on you to have a big year this year, they are. You're going to get scrutinized, I'm going to get scrutinized. I'm going to help you the best I can to play at a high level. You put in the work to prepare yourself to play at a high level, and we'll go from there."
Jones says his wrist is fully healed and he added some weight and strength this offseason. He hasn't had the best start of camp, losing individual battles in drills, but he's looking forward to fresh competition against the Vikings in Sunday night's Hall of Fame game.
Man, I'm excited to go against somebody else this Sunday," Jones said. "We've been banging a lot, and it kind of gets the same thing every day. Going against somebody else, you get to do a lot more different stuff than going against your teammates. Because practicing against your teammates every day, they pick up your habits and they kind of know what you're going to do."
Jones needs to get off on the right foot to establish himself as a starter once again. First-round pick Bud Dupree is waiting in the wings and veteran James Harrison is always willing to eat up snaps and opposing quarterbacks. Porter thinks Jones can continue the Steelers' tradition of strong edge rushers, as long as he relies on his talent and blocks out the noise and pressure of being a first-round pick.
"Don't let that mess with your head how you play," Porter said. "You can't get away from it. You're going to read the articles, they're not all going to be good because you haven't done anything to make them say anything great about you."