StaTuesday: Final Brewers defensive ratings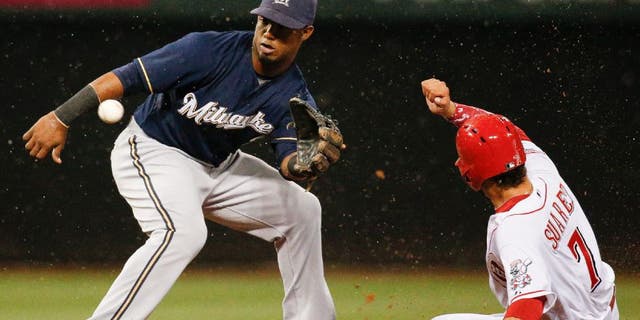 Back in late July, we presented the initial results of the Society of American Baseball's (SABR) Defensive Index rankings (SDI), so we figured we should follow up with the final ratings, which were released last week.
As we mentioned over the summer, according to SABR, these rankings account for roughly 25 percent of the selection process used in determining each season's Gold Glove winners, which were announced last week.
The Defensive Index is compiled from different fielding metrics and incorporates a myriad of categories. (If you are interested in a more detailed explanation, please click here.
The top defensive player for the Brewers, according to this metric, was Jean Segura, who really picked things up defensively since July. Back then, Segura's SDI was 1.0, which was good for eighth among National League shortstops. He finished at a 4.51 SDI, fifth in the NL. The shortstops ahead of Segura were, well, way ahead of him. Gold Glove winner Brandon Crawford led the way at 15.4, recently traded Andrelton Simmons was at 12.9, Adeiny Hechavarria 11.5 and Nick Ahmed 11.0.
Among other players, Adam Lind was next best as 2.3 (2.1 in July), which put him right in the middle of the pack at seventh in the NL (just behind last year's Brewers first baseman, Mark Reynolds).
Catcher Jonathan Lucroy had a -0.2 SDI, although that ranked him seventh in the NL. The bad news? He was at 2.0 back in July.
No Brewers player qualified at second base (Scooter Gennett played the most, 819 innings). Same situation at third base, thanks to the trade of Aramis Ramirez, who had a -2.2 SDI (1.4 in July).
Four pitchers qualified with now-free agent Kyle Loshe the tops at 1.8, followed by since-traded Mike Fiers at 0.6. Matt Garza (-0.7) and Jimmy Nelson (-3.1) were on the wrong side of the ledger.
In the outfield, only the departed Carlos Gomez had a positive SDI, at 1.9 (2.2 in July). Others listed were Gerardo Parra (-1.4), Khris Davis (-1.9) and Ryan Braun (-3.2).
In case you are wondering who were the worst fielders using the SDI, San Francisco's Angel Pagan at -14.0 was the bottom of the NL while Boston's Hanley Ramirez had a -16.8 -- no wonder the Red Sox are talking about moving him to first base.
To view all the ratings, click here.
Follow Dave Heller on Twitter