Specific objectives fueled MLS SuperDraft chaos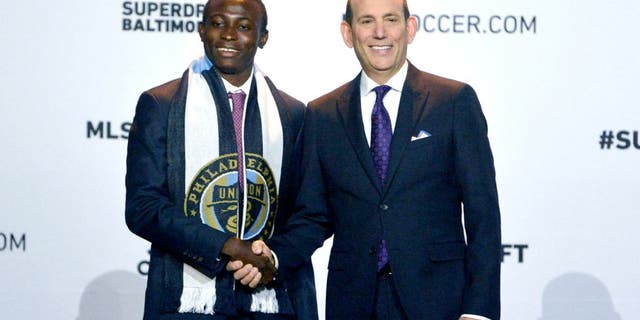 NEWYou can now listen to Fox News articles!
BALTIMORE --
In rather stark contrast to previous years, there were no certainties heading into this edition of the MLS SuperDraft. No player stood head and shoulders above the rest. No team really tipped its hand to pave the way for reliable predictions. No order emerged for coaches and technical directors as they assessed the state of affairs.
Those factors contributed to a particularly chaotic SuperDraft as clubs scrambled to make the most of the opportunities available.
"In this draft, you could tell people wanted one or two players and they were really in love with those one or two players," New England coach Jay Heaps told FOX Soccer after the first two rounds of the SuperDraft concluded on Thursday. "There was going to be some movement. There were some specific need picks as well. You just had to wait it out. We felt strongly that once a couple of those moves did go, we had a better shot of getting the player we wanted."
Chicago entered the SuperDraft with the top pick and a desire to improve the team by assembling resources over the course of the day. Fire general manager Nelson Rodriguez discussed the possibilities with the first overall selection in the buildup to the draft and weighed them carefully. Rodriguez and new Fire coach Veljko Paunovic held talks with several teams and sketched out possible scenarios to dictate possible moves as the draft unfolded.
Most of them included taking Jack Harrison with the first overall pick. Chicago reached a deal with New York City FC prior to the draft to send Harrison to NYCFC in exchange for the number four pick (if the right player fell to that spot) and an undisclosed amount of general allocation money. The two clubs just needed to wait and see how the second and third picks unfolded in order to complete the deal.
"We were in active discussions with Philly on a lot of different scenarios leading up to it," Rodriguez said. "To Philadelphia's credit, I don't think there was ever a report about what they were looking to do. At that point, we were happy with Jack. We had laid out the scenario [with New York City FC]. And it came to fruition."
Most of the intrigue stemmed from the Union's decision to acquire the second pick from Colorado on draft day in exchange for Zach Pfeffer and an undisclosed amount of allocation money. Philadelphia cobbled together three picks in the top six (unprecedented in the history of the SuperDraft) and reinforced its position of strength in the process.
Philadelphia chose Georgetown defender Joshua Yaro with the second pick and scooped up Hoyas teammate Keegan Rosenberry with the third pick. Union sporting director Earnie Stewart explained his club wanted to secure Yaro's services and prevent Rosenberry (the subject of a failed Homegrown claim from the Union) from drifting away to another team with the fourth or fifth overall pick. Creighton forward Fabian Herbers completed the trio of selections at number six.
"I didn't sleep very well last night because we had all sorts of plots up our sleeves, trying to get the number two spot," Stewart said. "We succeeded in the things that we wanted to do. So it was a good day."
The focus on Rosenberry allowed Stanford left back Brandon Vincent to drop out of his expected perch in the top three and set the wheels in motion for Chicago and NYCFC. The two clubs activated the deal in place and paved the way for Harrison to end up in his desired destination.
"We think he'll be able to help us right away, but, at the same time, we know there is a lot of development for him, a lot of settling in time," NYCFC sporting director Claudio Reyna said. "We have to make sure -- not only as a coaching staff, but as a club -- that we put our arms around him and make sure that he grows on and off the field. But he has all of the attributes. He's a humble kid who wants to work hard. We're happy to have him join the club."
Those moves laid the groundwork for a first round where teams popped in and out of the order according to their needs. The particularly busy first round included six separate trades (the most in any first round in the history of the SuperDraft, according to MLS records) and illustrated the desire to adjust to the circumstances accordingly.
Every club approached the process with different goals in mind. Some teams traded out for a specific objective (Colorado's pick swap with Chicago yielded the number one ranking in the allocation order), immediate help (Seattle landed Joevin Jones from Chicago for general allocation money and the 15th overall pick) or more financial flexibility (Sporting Kansas City shipped the 11th pick to D.C. United for targeted allocation money). D.C. United even jumped into the order in one spot (that swap with Sporting KC) and traded out in another (Orlando City landed the 13th overall pick for targeted allocation money and a second-round pick) to achieve its goals. Some teams (Chicago, in particular) merged all of those pursuits together.
Many of those selections ended up with teams hoping for some form of an immediate return from their top draft picks, according to D.C. United coach Ben Olsen.
"In the first round, we always hope that they're going to help out in some fashion in the first year," Olsen said after taking Syracuse midfielder Julian Buescher with that pick from Sporting KC. "Miguel [Aguilar] last year helped us out a few times. And if not, it's the second year, it's Open Cup, it's CONCACAF [Champions League], it's stuff like that where they help. But I think he's going to see some real minutes. We're going to have to rely on some young guys this year -- it's part of the process in MLS. I think we have some talented ones we'll put a little faith in and see what they're about."
As the tumult on the draft board revealed, most teams are specific about their objectives and their targets now. The emergence of the Homegrown rule and the onset of those nascent Academy systems strips away a lot of the depth in the SuperDraft pool. There are not scores of players to pick through for most teams. The feast or famine in last year's class -- Orlando City forward Cyle Larin scored a rookie-record 17 goals, while several other first-round picks never saw the field -- And if teams want to make sure they land their chosen players, then they must act decisively in order to place themselves in position to do so.
"I think so," Orlando City coach Adrian Heath said. "I think one of the things, for me, is that the league is just getting so competitive and more competitive by the day. We looked at overseas players the other day. We thought, this is one for us, and we found out that he was on two other discovery lists. Everybody's scouting around the world for these players. It's getting more and more competitive."
It remains to be seen how the competition continues to influence the SuperDraft moving forward. MLS commissioner Don Garber is in favor of retaining the process, while teams continued to find ways to wring capital out of it.
At this point, it is a matter of figuring out how to leverage the available resources and use them to strengthen the squad in one form or another. The shifting order in this edition of the SuperDraft underscores the fluid nature of those objectives from team to team and from year to year.

"You know, it's interesting," Seattle general manager Garth Lagerwey told FOX Soccer shortly after the draft concluded. "Big picture, I'd say there were fewer elite players in this draft. The movement at the top of this draft makes a lot of sense. For me, at least, it thinned out after that. There were a couple of teams that only one pick or only had one pick late. I think that might have driven some of the action: Look, if I have one shot at it, I want to get it right.
"I mean, it was crazy," Lagerwey said. "There was a lot of stuff going on. A lot of assets changed hands. If you had asked me going in, I would have predicted a quieter day just because I thought a lot of players were of similar level. I think that's the way the drafts are going to be moving forward."