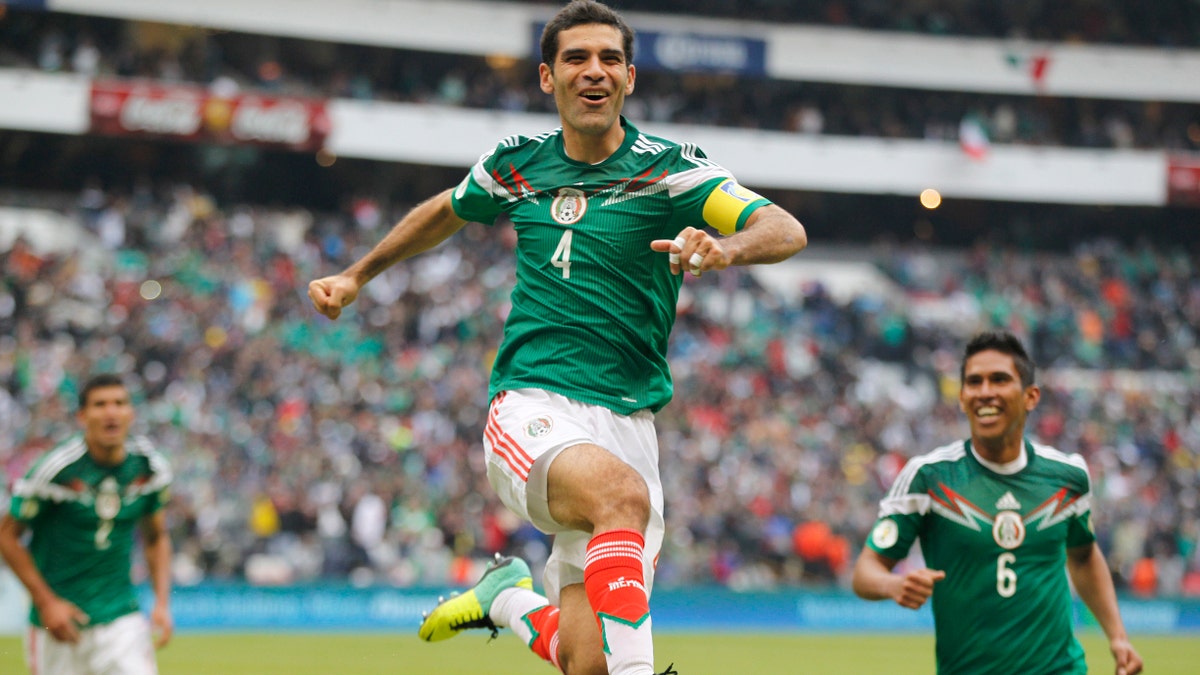 Mexican soccer legend Rafael Marquez was among 22 people sanctioned by the U.S. Treasury Wednesday over their alleged ties to a drug trafficking organization.
The sanctions are the result of a multi-year investigation of the cartel allegedly headed by Raul Flores Hernandez. They freeze all U.S. assets of the people and entities named and forbid U.S. citizens from doing business with them.

In a statement, the U.S. government referred to Marquez as a person with a longstanding relationship with Flores Hernandez who has "acted as [a] front [person] for him and his [drug trafficking organization] and held assets on their behalf."
Among the entities tied to Marquez were his soccer academy and health and rehabilitation clinics. The Treasury did not say that Marquez faces charges in the U.S.

Marquez, 38, is famed as a tenacious defender whose crunching tackles sometimes saw him sent off in high-profile matches. In Mexico he is revered as one of the country's all-time greats, though many U.S. fans remember him for a studs-up, head-butt foul on Cobi Jones that earned him a direct red card at the 2002 World Cup.
Marquez debuted in Mexico's top-flight league in 1996 with Atlas and moved to AS Monaco of France's Ligue 1 three years later. In 2003, Marquez joined Barcelona and spent 10 years there, helping the Spanish super-club win La Liga and Champions League trophies.

Advancing into his 30s, Marquez then had stints with the New York Red Bulls of Major League Soccer, Leon of Mexico and Hellas Verona in Italy's Serie A before returning to Atlas.

A longtime fixture of Mexico's national team, he led "El Tri" at four World Cups and hopes to become only the third player ever to play in five. Marquez has scored 13 goals wearing the green jersey in 158 appearances between 1997 and 2017, according to statistics published by the Mexican Soccer Federation.

There was no immediate comment on the sanctions from Marquez or his agent, Enrique Nieto.
Flores Hernandez allegedly operated independently in the northern city of Guadalajara — where Marquez's current club, Atlas, is located — but maintained alliances with the Sinaloa and Jalisco New Generation cartels.
The Mexican Attorney General's Office also seized related assets, including the Grand Casino near Guadalajara, according to the Treasury statement.
"Raul Flores Hernandez has operated for decades because of his longstanding relationships with other drug cartels and his use of financial front persons to mask his investments of illegal drug proceeds," U.S. Treasury Office of Foreign Assets Control Director John E. Smith said in a statement.
Federal drug trafficking indictments against Flores Hernandez were returned in March in Washington and the southern district of California.
The Associated Press contributed to this report.