SMU's Morris expects Baylor's full attention on Friday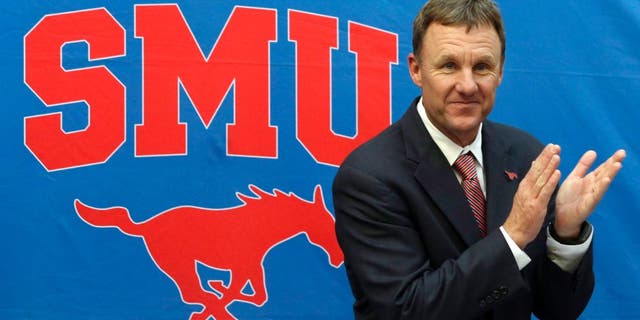 UNIVERSITY PARK, Texas -- €" New SMU coach Chad Morris doesn't think the recent controversy surrounding Baylor's football program will be any kind of distraction for the Bears when they play Friday.
"I know Coach [Art] Briles and have known him for some time, and he'll have them ready," Morris said. "I can promise you that."
The sexual assault conviction of former Baylor player Sam Ukwuachu has drawn unwanted national attention to the Bears. They were already getting plenty of attention for their football prowess.
Baylor is ranked No. 4 nationally and has won back-to-back Big 12 championships. That's more than enough to keep Morris occupied while trying to change the culture of an SMU program that went 1-11 a year ago.
"You take it and you go with it and you make the best out of it," Morris said. "We know they are definitely one of the top programs in the country, with great skill at all positions and plenty of returners back. We're not sneaking up on them, I can tell you that."
Morris, the former Clemson offensive coordinator, is kicking off his career as a college head coach against Baylor, the same team SMU started its dismal 2014 campaign against with a 45-0 loss.
As far as Morris is concerned, the past is all behind the Mustangs, who feature six true freshmen and seven redshirt freshmen on their two-deep chart (not including special teams).
"We've watched very few clips of last year," Morris said at the first of his weekly press luncheons. "I've kind of said that all along, because it's about what they're doing right now."
While Morris wants to forget the past, last year's drubbing is what drives linebacker Shakiel Randolph.
"I'll put it like this: last year's season is motivation in general," Randolph said. "The team that was out there last year wasn't a 1-11 team. I feel like we have a lot to prove, and the guys feel like we have a lot to prove. Friday couldn't come any sooner."
Playing on Friday night is appropriate for Morris, who used his experience as a former Texas high school football coach as a major selling point for the SMU job. Morris coached high school football in Texas for 16 seasons and won back-to-back state championships at Austin's Lake Travis High.
Baylor's Briles also made his name initially as a title-winning football coach in Stephenville, Texas.
In fact, Morris holds his bond with Texas high school coaches in such regard that he said it was a "touchy subject" for the Mustangs to open the season on a Friday night.
"Friday nights in the state of Texas have always been about Texas high school football," Morris said. "But the way our schedule fell this year, and the opportunity to get on national television to showcase your program, you've got to be excited about that."
Last year's game in Waco was a similar showcase - - for Baylor, not SMU. The Bears opened the sparkling McLane Stadium with that 45-0 domination of the Mustangs. Baylor led 24-0 after the first quarter.
Given Baylor's lofty status and SMU's rebuilding mode, the chances are good for a similar rout on Friday. That's why Morris billed Baylor as a measuring stick game for SMU, but only the first of many times the Mustangs will be measured this season.
"By no means is this first game going to define us," Morris said. "It's not going to define this season, win or lose. There's a lot of games ahead, there's going to be a lot bigger games ahead, but this is the only game that we can control. This will be a great opportunity to see where we are and to move forward with it."
Follow Keith Whitmire on Twitter: @Keith_Whitmire
MORE FROM FOX SPORTS SOUTHWEST:
- PHOTOS: Cowboys Cheerleaders Auditions
- Ranking NFL quarterback salaries
- Highest paid player on every NFL team