Slip in rankings no slight to Couturier's talent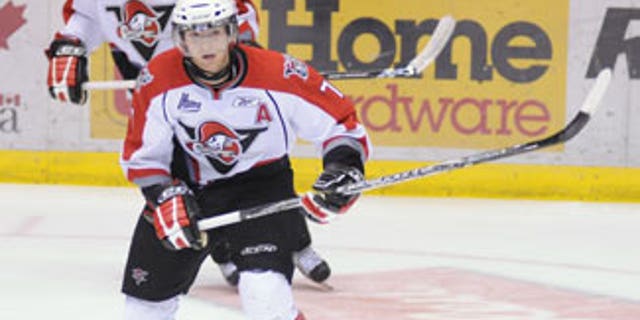 Just because Drummondville Voltigeurs (QMJHL) center Sean Couturier slipped from No. 2 to No. 6 in NHL Central Scouting's final ranking of the top North American skaters available for the 2011 Entry Draft, it doesn't mean he's lost a step.
When the scouts voted to determine their top 10 during last week's final meetings in Toronto, the overwhelming theme was that the five players ahead of Couturier earned their positions with superior play over the second half of the season. Couturier, meanwhile, remained consistently steady.
"Sean Couturier is a good hockey player, but there were players who got better," Chris Bordeleau, Central Scouting's chief QMJHL scout, told NHL.com. "This was Sean's third year in the league and (Ryan) Nugent-Hopkins is such a great, skilled player, so there's nothing you can do about that. Right now as a group (at Central Scouting), we all feel Gabriel Landeskog will probably play in the NHL next year -- he's ready. We have Nathan Beaulieu and Jonathan Huberdeau, who have both taken giant steps and improved immensely. Huberdeau has NHL hands right now.
"Dougie Hamilton has really shown what he's capable of doing. Thing is, yes, Couturier is sixth, but that doesn't mean the sixth guy couldn't go first or the first guy go sixth. We're just projecting that these guys will play in the NHL, so the first one could be as good as the sixth."
The 6-foot-4, 197-pound Couturier not only was voted Best Professional Prospect, but also was named Most Valuable Player in the Quebec Major Junior Hockey League this season. He had 96 points for the second straight season (36 goals, 60 assists), despite playing 10 fewer games due to his participation in the World Junior Championship for Team Canada in January.
"The WJC was a great experience overall," Couturier said. "It was a sad ending … a bad ending (losing to Russia in the gold-medal game). But I try and take the positives out of it. It's fast hockey, it's the best in the world and just playing against the best, you get better."
In Drummondville's four-game sweep of the Chicoutimi Sagueneens in the opening round of the QMJHL playoffs, Couturier had 3 goals and 8 points.
In his first season with the Voltigeurs, Couturier was coached by current Tampa Bay Lightning coach Guy Boucher.
"Guy was a great coach," Couturier said. "In that first year, I didn't know what to expect, but having Guy around made my adaption that much better and he made me comfortable in Drummondville, so a lot of success comes from him. The thing is, I didn't have a whole lot of ice time (as a rookie in 2008-09), but Guy still kept me positive and made me a better player. He just told me to get better every day, and that's what I did because the next year was a lot better."
He was right as Couturier led the league with 96 points in 68 games last season. He was the first 17-year-old to lead the QMJHL in scoring since Sidney Crosby of the Rimouski Oceanic did it in 2004-05 with 168 points in 62 games.
Boucher feels whichever team drafts Couturier not only will be getting an exceptional hockey player, but a fantastic person.
"He's not just a terrific athlete, but individual," Boucher told NHL.com. "He's first in his class at school with over a 90-percent average … he's an extremely bright hockey player. He sees the game at a slow pace like the top guys do, and his puck protection is incredible.
"You don't take the puck off of him. He's a big center who wins the faceoffs and is extremely reliable defensively. When he was 16, I had to push him to go offense because he wanted to be so reliable defensively. He has great vision and is slowly building up his speed … he's going to be a terrific NHL player."
Couturier won 54 percent of his 1,430 faceoffs during the regular season.
When told Couturier was rated No. 6 on Central Scouting's final list, Boucher offered his former protégé the following advice:
"Here's the thing, he has incredible puck protection along the boards, but he's just got to take that puck protection closer to the net. Sean is probably a better feeder; he's one of those guys who likes to dish the puck. If you do that enough, you forget how good you are at protecting pucks, finding pucks around the net and scoring. That would be my advice to him -- go to the net."
Follow Mike Morreale on Twitter at: @mike_morreale