Singular focus: Jeff Gordon's attention turns immediately to Homestead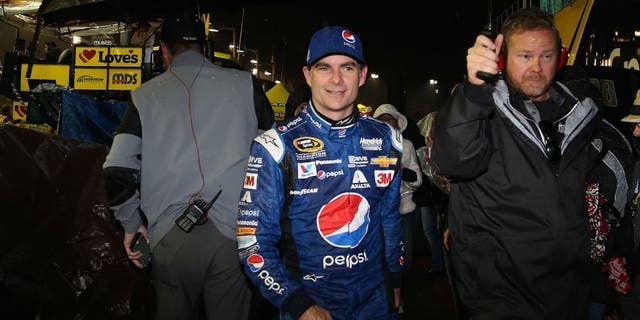 Jeff Gordon was the only driver who came into Phoenix International Raceway this weekend knowing for a fact that he'd race for a championship next Sunday. And while Gordon's sixth-place finish in the Quicken Loans Race for Heroes wasn't a victory, Gordon heads to Homestead-Miami Speedway in a great place.
Next Sunday, Gordon will square off with 2014 NASCAR Sprint Cup Series champion Kevin Harvick, Kyle Busch and Martin Truex Jr. for this year's series title. Whichever of the four drivers has the best finish will be the new champion.
Gordon, of course, will retire after the Homestead race and he has the rare opportunity to go out a champion in his chosen sport, something few athletes ever get the chance to do.
It was hardly surprising, therefore, that Gordon was all smiles at PIR, despite enduring a six-hour rain delay with the rest of the drivers.
Considering Gordon was winless on the season until two weeks ago, his sudden resurgence has him optimistic about ending his career in a big way.
"This has been incredible the way our season has been real up and down, and then the Chase has been really solid for us and of course Martinsville, and we feel very, very fortunate and excited," said Gordon after posting his sixth consecutive top-10 finish.
The fact that this is Gordon's last hurrah makes it that much sweeter for the four-time champion.
"When I set out into this season and made the announcement that I made, I just hoped that this could possibly happen, and it is, and now it's not enough for us just to go down there and be a part of it," said Gordon. "We want to go there and push hard and get every single thing we can out of ourselves and our team and see if we can't give these guys a run for their money."
Gordon knows Homestead will be a bit of a zoo, but he said he's ready.
"There's going to be a tremendous amount of distractions leading into it, and I'm going to do my best to try to eliminate the distractions once Friday starts in practice and qualifying and all that stuff," Gordon said. "But you know, this sport is all about dealing with and managing distractions. We do it every single day we're here, we do it on race day every weekend, and you've got to be heightened, but I don't see it being an issue."
As for his goal at Homestead, Gordon put it as succinctly as possible.
"There's only one lap I want to lead, and that's the last one," said Gordon.