Serena Williams accuses umpire of sexism in US Open loss
After a controversial call by the U.S. Open chair umpire during Saturday's women's title match, Serena Williams asserted that tennis has different standards for men and women.
Williams, 36, on Saturday suffered a swift 6-2, 6-4 loss to Naomi Osaka, who became the tournament's first female Japanese champion.
It happened after Williams, a 23-time Grand Slam singles champion, appeared to be thrown off her game -- after being penalized in the second set because of three separate game violations.
Williams got the first violation from umpire Carlos Ramos, who ruled that Williams received coaching earlier in the set; she told him she'd "rather lose" than cheat.
"I didn't get coaching," Williams said multiple times. "I don't cheat! I didn't get coaching. How can you say that? You owe me an apology. I have never cheated in my life!"
She was given a second violation for smashing her racquet, and again yelled at the chair umpire who had given her the first warning.
SERENA WILLIAMS BESTED BY NAOMI OSAKA IN US OPEN WOMEN'S FINAL
"You are attacking my character," she continued. "You will never ever, ever be on another court of mine as long as you live."
Her third violation came after she called the umpire a "thief," leading to the automatic loss of a game.
"You stole a point from me; you're a thief, too," she insisted.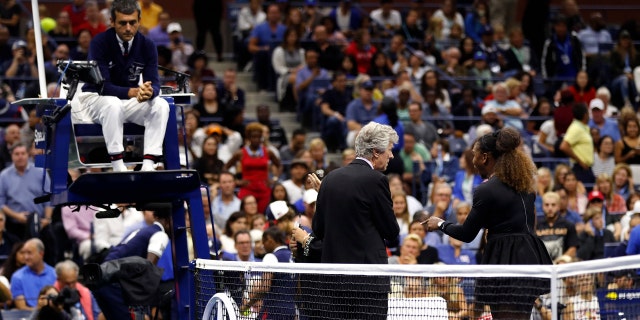 The umpire instantly awarded a game to Osaka, citing a "verbal abuse call" against Williams.
It was at this point that Williams sought out the referee and argued that the harsh call had been made because of her gender.
"Do you know how many other men do things that are much worse than that? This is not fair. There's a lot of men out here that have said a lot of things, and because they are men, that doesn't happen to them," she said to the referee.
"There are men out here that do a lot worse but because I'm a woman, because I'm a woman you're going to take this away from me? That is not right."
Williams stood by her performance at the post-match news conference, saying: "I've seen other men call other umpires several things and I'm here fighting for women's rights and for women's equality."
Later Saturday, Williams received some support in the form of tweets from tennis legend Billie Jean King.
"Several things went very wrong during the @usopen Women's Finals today," King wrote. "Coaching on every point should be allowed in tennis. It isn't, and as a result, a player was penalized for the actions of her coach. This should not happen.
"When a woman is emotional, she's "hysterical" and she's penalized for it," King continued. "When a man does the same, he's "outspoken" & and there are no repercussions. Thank you, @serenawilliams, for calling out this double standard. More voices are needed to do the same."
Williams' coach, Patrick Mouratoglou, later admitted to an ESPN reporter that "I was coaching."
"I'm honest, I was coaching. I mean, I don't think she looked at me so that's why she didn't even think I was. But I was like 100 percent of the coaches on [sic] 100 percent of the matches."
He said that he believes that rules like this "are killing tennis."
"I have always said it. … Not to allow the players to express their feelings is stupid, I mean it's not a big deal breaking racquets."
Williams said later at the press conference: "I don't need to cheat to win. I've won enough. That's never been something I've ever done, you know."