Selanne, at 40, carrying Ducks toward playoff spot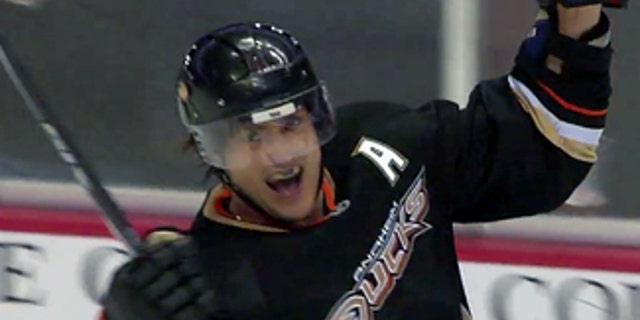 NEWYou can now listen to Fox News articles!
Logic dictates that at some point Teemu Selanne will have to slow down.
Right?
At 40 years young, Selanne scored his 22nd career hat trick Monday, plus had 2 assists as the Ducks beat the Colorado Avalanche 5-4. He is the first player 40 or older in NHL history to score 3 times and add 2 assists in one game.
The 5-point night matched his career-best single-game output (he had 3 goals and 2 assists Feb. 24, 2008), and gave him 75 points, eighth in the League. It's also the third-best season by a player 40 or over in League history. Only 40-year-olds Johnny Bucyk (83 points in 1975-76) and Gordie Howe (103 points in 1968-69) had more points than Selanne at the same age. With six games remaining, and the way Selanne is scoring -- he now has 7 goals and 4 assists in his last five games -- he could pass Bucyk's total.
"He's a special athlete doing special things at a really remarkable age," Ducks coach Randy Carlyle told the team's website. "He doesn't feel anywhere near the twilight of his career. He thinks he can continue to go out and score goals. He proves it night in and night out. The puck follows Teemu Selanne around. When he gets it, he has a knack for finding holes. He is scoring big goals for our hockey club at a critical time of the year."
Selanne's night wasn't just one for the history books -- it was vital to the Ducks' winning and staying in the Western Conference playoff race.
The Avs led 2-0 after one period, but Selanne scored his second career penalty-shot goal 47 seconds into the second to get the Ducks going. It was his first penalty-shot goal since March 9, 1993, when he beat Tampa Bay's Wendel Young. He had been 0-for-4 since then.
Just over four minutes later, Selanne helped Jason Blake cycle the puck in the Colorado end and drew an assist on Blake's goal to tie the game. Then, at 9:01 of the period, he showed the speed that earned him the Finnish Flash nickname, skating through the zone and away from Cody McCormick to create space to get off a shot that goalie Brian Elliott stopped, but Avs defenseman Erik Johnson's clearing attempt came right to Selanne in the right circle. Elliott had no chance to stop his snap shot to put that put the Ducks ahead 3-2.
David Jones scored late in the second to draw Colorado even, but Selanne struck again 2:49 into the third. With the Ducks on the power play, his shot deflected off an Avs skater and went to rookie defenseman Cam Fowler, who beat Elliott to put the Ducks up 4-3.
"Sometimes I just watch in awe at what he's able to do," said Fowler, an 18-year-old who was 2 when Selanne scored a League rookie record 76 goals in 1992-93 with the Winnipeg Jets. "He's been so consistent over his career, and for him to be having the season he's having this year and to be putting the big goals together like he is … it seems like those are the goals he has a knack for. I think we owe a lot to him, for sure."
Minutes later, Selanne finished a remarkable night with a power-play goal. Waiting in the left circle he jumped on the rebound of a Ryan Getzlaf shot, showed remarkable patience to pull it from his forehand to his backhand and lifted the puck over a sliding Elliott.
The power-play goal was Selanne's 15th of the season, third-most in the League, and was the 235th of his career, breaking a tie with Marcel Dionne and giving him sole possession of sixth-place on the all-time list. He's now one behind fifth-place Mario Lemieux.
His 2 assists also gave him 701 for his career, making him the 49th player in League history with 700-plus assists, and with 1,335 points, he's now tied with Mike Gartner for 29th on the all-time scoring list.
Selanne's 28 goals and 75 points this season are the most he's had since the 2006-07 season, which ended with him hoisting the Stanley Cup. However, he will turn 41 over the summer, and has hinted this could be his last season. However, he's said that in the past and he's still going strong.
Anaheim fans certainly made their feelings clear, as they chanted, "One more year," during a post-game TV interview that was simulcast on the center-ice scoreboard.
"My mind goes like an elevator," Selanne told NHL.com following Monday's game. "One day I feel I could play 10 more years and the next day I feel like, 'Why are you still doing this?' That's why I'm not even thinking about that during the season. It's better to think about those things after the season when you're stable.
"But, you know, I'm really enjoying this game, and obviously that's why it's so much fun."
Contact Adam Kimelman at akimelman@nhl.com. Follow him on Twitter: @NHLAdamK