Seattle Seahawks fans set stadium noise record Sunday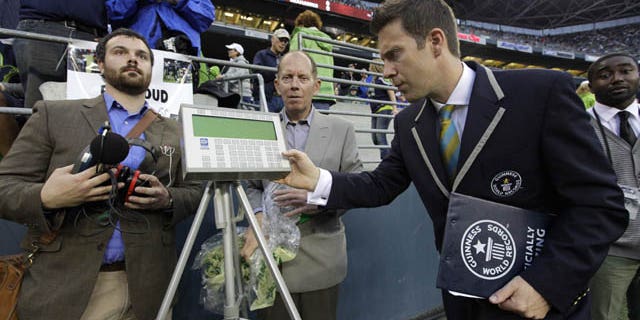 The fan group attempting to set a Guinness World Records mark for loudest stadium says it has established a record during Sunday night's game between the Seattle Seahawks and San Francisco 49ers.
The group, called Volume 12, announced on its Facebook page it had set the mark late in the first quarter. The decibel reading taken during a sack of San Francisco quarterback Colin Kaepernick in the first quarter — following a one hour weather delay — was 131.9 decibels.
The previous record for "loudest crowd roar at a sports stadium," was 131.76 decibels, set in 2011 in Turkey at the Ali Sami Yen Sport Complex Turk Telekom Arena during a soccer match between Galatasaray SC and Fenerbahce.
The group footed the bill for the Guinness World Records official to come to Seattle and wasn't affiliated with the team.