Search for MLS team home in Miami has taken turns like a Beckham free kick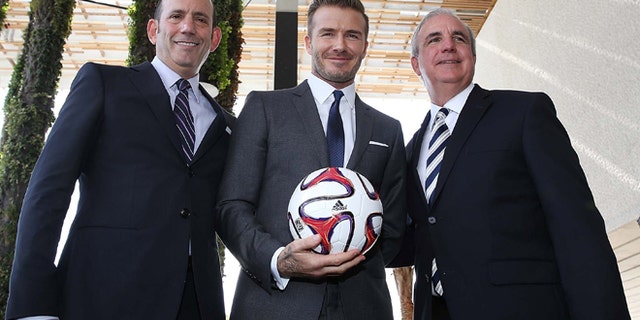 NEWYou can now listen to Fox News articles!
Miami – Soccer coaches in England lusted for his talents; free kicks bent seemingly to his will; movies and underwear lines got named after him; models, pop icons and film stars swooned over him.
Even blasé Los Angeles fell star-struck at David Beckham's feet when he came to play with the Galaxy in the twilight of his career.
But in soccer-loving Miami, Beckham is finding that all that won't even buy him a café con leche.
The English soccer great has faced resistance and even outright outrage in his efforts to build a new home for a local Major League Soccer franchise (to begin play in 2017) in Miami – a move he apparently thought would be welcomed with open arms because he plans to pay for it out of the team's pocket.
It was the business community that first sent him packing from a Port of Miami site. Next, costs and politics drove him out of a downtown waterfront location next to American Airlines Arena, where the NBA's Heat play.
Most recently, it was home- and small business-owners that proved a roadblock on a deal in Little Havana.
Now, almost two years after Miami was awarded the franchise, Miami Beckham United ownership seems close to sealing a deal for a stadium development site in the city's historic Overtown neighborhood.
"We intend to create an assemblage of privately and county-controlled land totaling approximately nine acres in Miami's urban core, within walking distance of multiple public transit options and the up-and-coming Miami River District," a statement from Miami Beckham United read. "The private properties, which comprise the majority of the land, are under contract and we intend to purchase the county land at fair market value pending approval of our site by the MLS Board of Governors."
The land consists of a county-owned truck depot, a privately-owned parking lot and a vacant lot managed by the city's water and sewer department.
Miami Mayor Tomás Regalado believes the team and stadium will benefit the community.
"It's a win-win for the city of Miami," he told Fox News Latino. "First because the stadium is going to be in the City of Miami. Second, because it's going to be privately owned and built. That's important because not only will the stadium pay property taxes and will have community benefits, but it sends a message to those who are seeking public money for venues or sports that this can be done."
The city still has to host public hearings about the project and zoning changes to the area, at which the public will have an opportunity to voice its opinion.
Which has presented problems before.
The working-class community of Miami's Little Havana balked at Beckham's group when it approached residents and business owners with an offer of a new stadium in their neighborhood.
The face of the Little Havana opposition was René Díaz, 69, the owner of the Candy House daycare. According to the Miami Herald, the team offered Díaz $1.8 million for a building he purchased in 1998 for less than $250,000.
Díaz asked for $30 million, hoping to start with a big number and end up somewhere in between. But instead of bargaining, he told the newspaper, the team took to the media to criticize him.
"The negotiation process, if you can call it that, was a disaster," Díaz told El Nuevo Herald after the team announced the Overtown location as the winner. "I feel good because I'm not losing anything. I get to keep my business, which is my family's patrimony."
He wasn't alone. An elderly resident named Violeta Jimenez told the Herald, "I think it is fantastic that they go somewhere else, and I hope it all goes well for them this time, before they have to come up with a Plan Z."
FNL reached out to Díaz and other property owners but didn't receive a response.
Miami city Mayor Regalado said Beckham's search was complicated by the community's experience with Marlins Park, which opened in the spring of 2012.
"The reason we had the conversations with the Beckham group was because, since Day 1 they have said, 'We don't want public money.' They would build the stadium," Regalado told FNL. "Had they said, 'We will build the stadium, but we need public funds,' we would have said no from Day 1, because we had the bad taste from the Marlins experience."
The construction of Marlins Park was funded largely through public funds, and the city gave the team the land for free and paid for the demolition of the Orange Bowl, which previously occupied the site.
The financial deal was immediately unpopular. In fact, in 2011 Miami-Dade County Mayor Carlos Alvarez lost his job in a recall vote – 88 percent of voters wanted him out of office – in part because he had backed the stadium's financial plan.
Tourist dollars are still being used to defray the cost of the structure, Regalado said.
"The Marlins deal is one that will go on the books as one of the stadiums that was built with public money without the public knowing exactly what was happening," he told FNL.
But he added that the Miami Beckham United's Overtown deal is setting a new precedent when it comes to developers and sports owners that he is happy to be associated with.
"[It will be] a beautiful venue that people can use," he said. "I'd like to be there for the first game from the suites, and [I'll] be proud we have another sport in the City of Miami."