Seahawks' 62-game run of holding leads among number of streaks to fall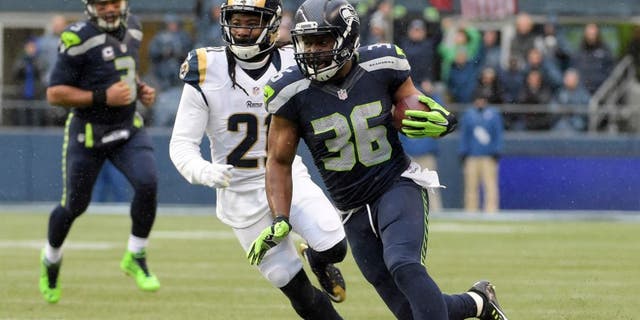 Seattle Seahawks quarterback Russell Wilson had never played in an NFL game in which his team did not have the lead - until Sunday.
The Seahawks had a number of streaks fall by the wayside in Sunday's 23-17 home loss to the St. Louis Rams, which snapped a string of five straight wins. The most noteworthy may have been holding the lead in all 62 games -- an NFL record - since Wilson won the starting quarterback job as a rookie entering the 2012 season.
"This was a day you want to forget," Seattle coach Pete Carroll told reporters after the game. "We couldn't get out of our own way from start on and really just made it so difficult for our guys to win."
Another long-standing team record that went by the boards involved a running game that had produced at least 100 yards in 25 consecutive games. The Seahawks were limited to 60 yards by the Rams as Christine Michael and Bryce Brown, who rushed for 127 yards a week ago, were held to a combined 15 yards on 13 carries.
"Their front seven is unbelievable," Seattle wide receiver Doug Baldwin said of the Rams. "They showed us a lot of things we hadn't seen on tape."
Wilson had sparked the winning streak with a record-setting performance, throwing 19 touchdown passes versus zero interceptions to become the first player in history with at least three scoring passes without getting picked off in five straight games.
The fourth-year quarterback was intercepted by Rams cornerback Trumaine Johnson in the second quarter, the first time he was picked off since a 39-30 loss to the Arizona Cardinals on Nov. 15.