SDSU promotes safeties coach Danny Gonzales to defensive coordinatorÂ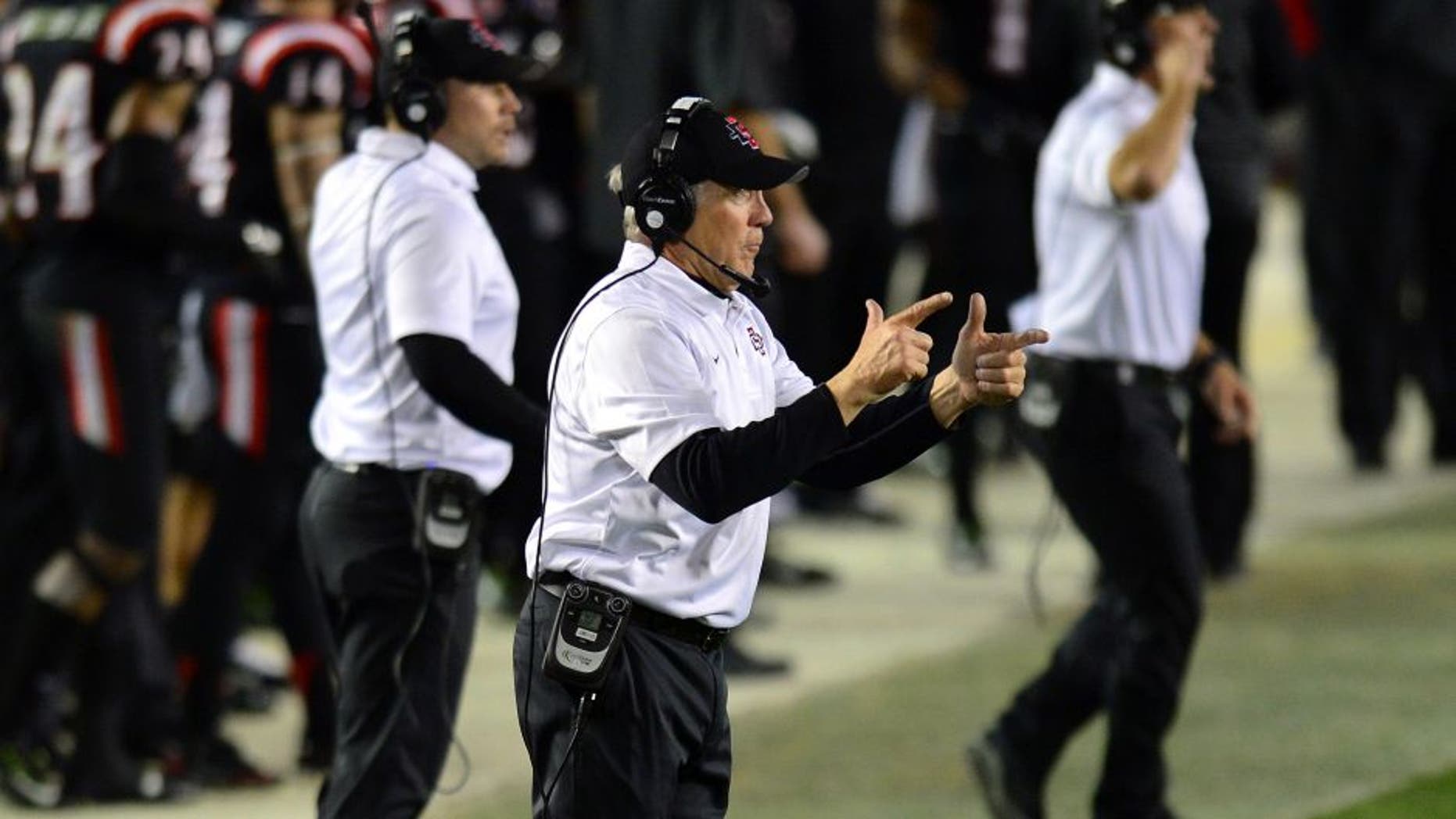 San Diego State football, known for its physical approach to the defensive side of the ball, will see a new man take charge of the defense in 2017.
The Aztecs promoted Danny Gonzales, the team's safeties coach for the last six years (2011-16), to defensive coordinator, as announced by the team on Monday.
SDSU head football coach Rocky Long voiced that Gonzales had interviewed for several other vacant defensive coordinator positions, but he was able to keep Gonzales on the Mesa likely due to the promotion.
"After they've accomplished themselves into a position where they know what's going on, the next step is to have them in charge of something," Long said. "So, you always try to give them an opportunity to do that."
If he did take his talents elsewhere, Gonzales would have held his first coaching position without Long on his sideline, for he has worked beneath Long's tutelage all 14 years of his coaching career.
Gonzales was a three-year letter winner (1995-98) with the University of New Mexico as a safety and punter before he hung up his cleats to join Long on the Lobos' coaching staff as a graduate assistant in 1999. He then worked as UNM's safeties coach from 2005-08 before following Long to SDSU in 2011.
With the Aztecs, Gonzales has helped SDSU to a combined 49 interceptions from 2015-16, the most in a two-year span by an FBS school since 2007-08.
Gonzales also had a positive influence on two of the best safeties in recent Aztecs history, as he helped both current New York Giants safety Nat Berhe (2011-13) and Malik Smith (2014-16) to earn All-Mountain West honors in each of their final three years on the Mesa.
Though he didn't work with Gonzales directly, SDSU's junior linebacker Ronley Lakalaka spoke highly of Gonzales' relationship with the Aztecs' current defensive players.
"I think it's going to be a great impact on us because coach Gonzales is a good communicator," Lakalaka said. "He likes to talk to us. He knows his players very well, so he already knows what his players' strengths and weaknesses are."
However, Lakalaka also hinted that the man beneath the headset is limited to the sidelines, emphasizing that it's the men who take the field that ultimately determine the success of the Aztecs' defense.
"It doesn't really matter who the defensive coordinator is," Lakalaka said. "We just got to play out there as players. Wherever the coaches put us, we have to go in there and make a play."
Gonzales will have his first opportunity to put Lakalaka and his teammates in the right position to compete in the Aztecs' spring game on Mar. 18.