Santonio Holmes Tweets Feelings For Mark Sanchez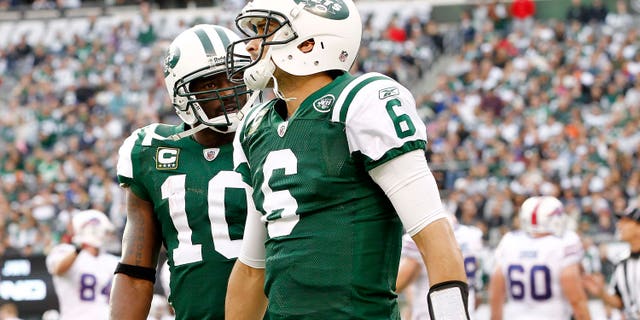 One of the first questions people asked after the Jets gave quarterback Mark Sanchez a contract extension was: How will wide receiver Santonio Holmes react to this?
Holmes took to Twitter Monday to let everyone know. Holmes, who is in Africa doing charity work, wished Sanchez well.
"Very happy for Mark & the entire team with his extension," Holmes tweeted. "Looking forward to getting back to work when I get back this amazing trip."
Sanchez and Holmes did not get along at the end of last season, something that boiled over in the final game of the season and in the weeks following their season-ending loss to the Dolphins.
Sanchez, who said the team approached him about an extension shortly after the season ended, wasn't discouraged by the Jets' early interest in former Indianapolis Colts quarterback Peyton Manning.
"Honestly, I completely understand, especially being there for three years now in the NFL that this is a business, and the team has its obligation to consider all of its options," Sanchez said. "I'm excited that the Jets believe in me and that I was the guy they want to move forward with in the future. You know, I really didn't think too much into it."
Sanchez had his best statistical season, throwing for a career-high 3,474 yards and 26 touchdowns while also rushing for six scores. But he was dogged by inconsistent play and subpar decision-making at times with 26 turnovers. The rift between him and wide receiver Santonio Holmes Sanchez said has been smoothed over.
"We've been in contact, really, the whole offseason," Sanchez said, adding that he has met with Holmes. "I think a bigger deal was made out of that than needed to be, but that's OK. ... We've kind of laughed that off at this point now, weeks ago."
Based on reporting by NewsCore and the Associated Press.
Follow us on twitter.com/foxnewslatino
Like us at facebook.com/foxnewslatino