Sam Alvey uses standing guillotine choke to put away Eric Spicely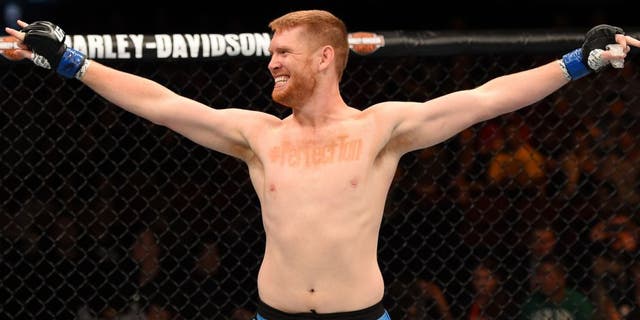 NEWYou can now listen to Fox News articles!
Sam Alvey is best known for knockouts, but he's happy to use a submission when the opportunity arises.
That's exactly what Alvey did to finish Eric Spicely when he trapped the former "Ultimate Fighter" competitor against the cage with a nasty standing guillotine choke Wednesday at UFC Fight Night in South Dakota.
Alvey prefers to put away his opponents with strikes, but facing a noted grappler like Spicely, he knew he was going to have to defend takedowns early and often in this matchup.
Spicely tried early in the fight to get Alvey to the mat, but had no luck dragging the fight to the ground and before long he was the one stuck in a submission.
After a brief grappling exchange, Alvey saw the opening with Spicely leaving his neck wide open and Alvey quickly latched on to the choke and pressed his opponent against the cage with every ounce of his weight behind him.
The pressure from the choke along with his head being twisted like a bottle cap gave Spicely no choice but to tap out, handing Alvey the first-round victory.
After the fight was over, Alvey had quite a bit to say and asked for his next opponent, if the UFC was willing to make the matchup happen.
"My wife is giving birth in 10 days, she's here with me tonight and in my corner, I couldn't do any of this without her. After a win like that I expect a vice president nomination; I'm willing to listen to both parties," Alvey said.
"My other prediction is that Dan Henderson knocks out Michael Bisping again and then goes on the longest title run in UFC history. When Dan reaches the ripe old age of 60, he'll meet me and I'll defend him. Until then, I'd really like to fight Oluwale Bamgbose or anyone on a card in Europe."