Saints: Wavering individual production expected, and welcome, in their 'unconventional' attack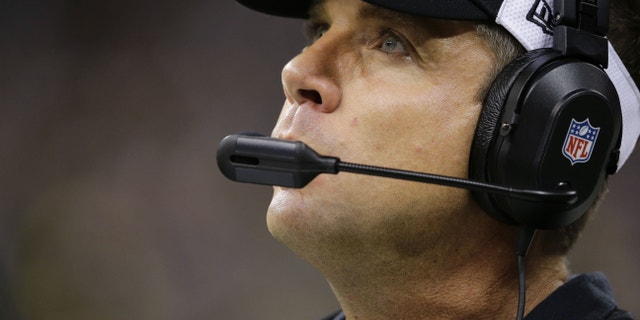 METAIRIE, La. – Marques Colston's latest big game came without warning, which is precisely the way the New Orleans Saints like it.
New Orleans' offense, which ranks sixth in the NFL, isn't helping many of its skill players pile up Pro Bowl-type stats. Rather, the approach of coach Sean Payton and quarterback Drew Brees has enabled a wide range of play-makers to emerge periodically with high-production outings.
In a game the Saints needed to win to remain atop the NFC South, Colston caught nine passes for 125 yards and two touchdowns in a 31-13 victory over Carolina on Sunday night. In his two previous games, Colston had a total of 67 yards and no TDs.
This week, figuring out how to prepare for Brees' equitable distribution of the football is a task for St. Louis Rams coach Jeff Fisher, who describes New Orleans' versatile attack as a "championship offense."
"Defenses, often times, will dictate where the football goes and Drew knows that. He puts it where he needs to put it," Fisher said. "It's hard to find teams better than the Saints from an ability to attack defenses because you just watch the tape and Drew knows exactly what he's doing."
Beyond Brees, tight end Jimmy Graham, who has 1,046 yards receiving and 14 touchdowns, is the only Saints with a chance to lead the NFL at his position. Graham has been targeted 117 times. No other player has been targeted more than Colston's 81 times.
Meanwhile, the Saints have not often emphasized the running game. They've run the ball on only 36 percent of their offensive plays this season and rank 25th in the league in yards rushing per game (91.4).
Yet they rushed for 242 yards — with Mark Ingram gaining 145 — in a victory over Dallas. The Saints also gained 131 yards rushing in a narrow loss at New England.
"They're going to do what they need to do to win ball games and if they feel they need to run it, they're certainly equipped," Fisher said. "They can do whatever they want to do."
Following New Orleans' victory over Carolina, Payton acknowledged Colston's selfless approach by noting that the way the Saints use their receivers doesn't necessarily help them win postseason awards.
Payton said his offense is "less conventional" in the way he mixes personnel or has the same receiver alternate between multiple roles in the same formation. Colston, for example, might sometimes line up in the slot and other times out wide in what otherwise looks like a typical three-receiver formation against a "nickel" defense (with five defensive backs).
"So because of the substitution patterns, it's not just as simple as he's always at one position or any one receiver is at one position," Payton explained.
Rookie receiver Kenny Stills is another player whose production has wavered. He's had five games with 11 yards or fewer, and three games ranging from 75 to 129 yards.
The running backs, likewise, have at times played central roles in the passing game and only peripheral roles at others.
Sproles has had 76 or more yards receiving in three games, once gaining as many as 114 yards on seven receptions against Miami. Against Carolina, Sproles had a relatively quiet three catches for 23 yards.
"You're changing formations. You're changing personnel groups. You're changing a lot of things, so it's really like a completely different game plan that you're having to kind of memorize from week to week," Brees said. "Everybody going into every game knows, 'Man, this could be my game.' Then we kind of see how it shakes out.
"It's a lot to manage at times, but Sean does a great job of it, the whole coaching staff does, I try to do my part and we just have a bunch of really unselfish guys that have bought in and understand how good we can be as a group, as a unit, and they take a lot of pride in that."
Notes: Payton said the Saints will leave outside linebacker Victor Butler on the physically unable to perform list the rest of the season rather than giving him a chance to play during the Saints' playoff push. Butler tore his anterior cruciate ligament in June. Payton said his rehabilitation has gone "extremely well" but that the Saints did not want to risk bringing him back too soon. ... Glenn Foster practiced for the first time, on a limited bases, since injuring his knee in Atlanta on Nov. 21. ... Missing practice were: DT Brodrick Bunkley (back), TE Josh Hill (hamstring), S Rafael Bush (ankle), LB Keyunta Dawson (calf) and LT Terron Armstead (nose).