Sabres excited to be home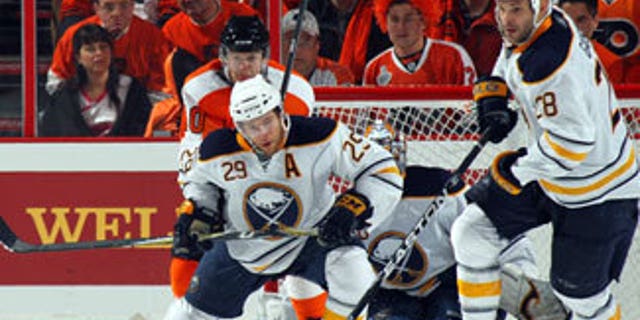 After playing two games in Philadelphia's deafening Wells Fargo Center, the Buffalo Sabres are looking forward to Games 3 and 4 of their Eastern Conference Quarterfinal series against the Flyers back in Buffalo.
"I think the emotion in the building will be incredible," said coach Lindy Ruff. "The atmosphere has always been incredible. It's our fans, it's our energy."
The Sabres went 21-16-4 at home this season, but 9-1-2 since Feb. 22.
"It's going to be a good feeling," forward Drew Stafford told the team's website. "We're hoping the fans really get into it and cheer us on because we can definitely feed off that and use it to our advantage," said Stafford.
One of the keys to keeping the building loud is staying out of the penalty box. The Sabres have given the Flyers 15 power plays in the first two games of the series, including 10 in Game 2. Ruff said he liked his team's energy and the way it stood up to the Flyers' physical challenges, but also knows they need to stay on the right side of the line.
"We want to play with a lot of energy, but the right type of energy," said Ruff.
Staying out of the penalty box also allows the Sabres' top scorers to stay on the ice. In Game 2, Tyler Ennis played just 10:21, Brad Boyes just 12:03, Stafford just 16:44 and Thomas Vanek 16:48.
Those four combined for 2 goals -- both by Vanek -- and 1 assist, by Stafford. Some of that could have been from those players not being able to get into any kind of offensive flow due to all the time the Sabres had to kill penalties. However, Ruff expects to see more from his top offensive contributors.
"It's not a time for excuses," he said. "I need every guy, when they go on the ice, to not have an excuse for not being involved. I don't care whether you sit there for four minutes, five minutes … it's go out there, be ready, stand on the bench and do jumping jacks if you have to. Because you know the next shift might be the most important shift of the series. Let's throw all the excuses in the trash can and say this next shift I'm going to be the difference-maker. Let's not say I had to sit there for four minutes. Be ready to go."
Ruff said he doesn't think it will take much for his players to get into the right mindset and find the right level of desperation.
"You'd like to win all four games on one night but the schedule isn't set up that way," said Ruff. "It's dealing with adversity, dealing with emotions of a loss. It's being able to put the win away as fast as you put the loss away. I think we were able to prove that to ourselves over the last couple months under extreme pressure … because we knew we couldn't afford to go on any two-game, three-game little slide. Or I wouldn't be standing here and (the players) wouldn't be in the dressing room and (the media) would be doing baseball stories right now."
Contact Adam Kimelman at akimelman@nhl.com. Follow him on Twitter: @NHLAdamK