Ryan Blaney boosted by support from dad, other drivers in hard stretch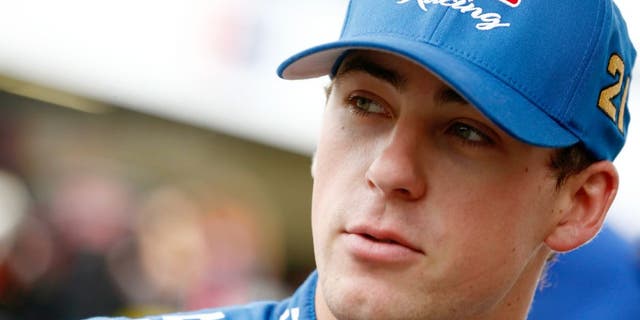 From missing two Sprint Cup Series races to losing an XFINITY Series race on a last-lap pass, to dominating another XFINITY Series race but this time actually closing the deal, the past month has been quite the roller-coaster ride for Ryan Blaney.
In fact, the 21-year-old second-generation driver can't recall a stretch in his relatively young career when circumstances have been any more up and down.
After sitting out Sprint Cup Series races on consecutive weekends at Daytona and Kentucky due to qualifying rainouts that set the field according to the NASCAR rule book, leaving Blaney and his part-time Wood Brothers Racing team on the outside looking in, Blaney was in position to win the XFINITY Series race for Team Penske at famed Indianapolis Motor Speedway on July 25 before losing the lead to Kyle Busch coming down the backstretch on the last lap.
Blaney, who lost his momentum in Turn 2, which allowed Busch to catch up, was distraught after being a half a lap short of victory at the world's most famous racetrack.
Bent on making up for the disappointment of Indy, Blaney came back with a vengeance the next weekend to crush the field in en route to a commanding victory in last Saturday night's XFINITY Series race at Iowa Speedway.
Yes, these past few weeks have been a roller-coaster ride, indeed.
"It's been some pretty far downs, with missing the two races and then losing the Indianapolis race," Blaney said in an exclusive phone interview with FOXSports.com. "Those are pretty lows, pretty hard on the driver, but then you've got the starting to climb up hill with the win in Iowa. Racing and motorsports in general are an up and down road and you never know when it's going to go down or up, so you've just always kind of got to make the best of the situation and moment and just hope for the best every single weekend, and you've got to think eventually it will play out for you."
Heading to Iowa, a .875-mile short track, there was no shortage of incentive for the young driver who, in addition to making 18 Sprint Cup starts for the Wood Brothers this year, is making select XFINITY Series starts in Team Penske's No. 22 Ford.
"It definitely puts a little fire in your belly and a chip on your shoulder," Blaney said. "We go to every single race weekend wanting to win, but when you have something to prove like that, I think it definitely kind of gives you a little bit of extra kick -- not only me but the team, as well. It gives them so much motivation to go out there and do what they do best. That really meant a lot to me, and I think we made a pretty good statement there in Iowa to know that we can get knocked down but we can come back to run stronger than ever."
Since missing the Sprint Cup Series races at Kentucky and Daytona, Blaney has finished 23rd at New Hampshire and 12th at Indy in the Wood Brothers' iconic No. 21 Ford.
"All the hard work it takes to get these cars to the racetrack and then to have it rain out, that's really tough for these guys and it's just kind of heartbreaking, especially when you had a good car at both places and it just didn't work out for us," Blaney said. "It kind of gives you, again, extra motivation and it really makes you strive to run harder when you do get a chance to run these races. I think these guys do a great job of rebounding and have done (that) at New Hampshire and at Indianapolis. So they do a great job and I'm really happy to be a part of such a motivated and awesome team."
The son of veteran Sprint Cup Series driver and former World of Outlaws champion Dave Blaney is also thankful to have people in his life who have offered support during his dark times in recent weeks -- particularly after he came so close at Indianapolis.
"My dad was there, my whole family was there, it helped having them there and kind of seeing their encouragement, and also what I got from some other drivers like Dale (Earnhardt) Jr. and Jeff Gordon -- that really helped me out a lot, and then having the Brickyard (400) the next day kind of gets your mind off of it and you're focusing on something different," Blaney said. "But having those people there supporting me definitely helped me get over it, and I can't thank them enough."
So how did Blaney's father react after his heartbreak at the Brickyard?
"He's not a very sympathetic guy," Ryan conceded. "He's never going to really tell you how he feels. He's more of a quiet guy. When something bad like that happens, it was just good to kind of see his reaction -- and it wasn't a bad reaction. It was an understanding one, so that, to me, being his son and knowing him for all these years, that really helped me out."