Russell Westbrook admits he plays on his phone instead of watching game film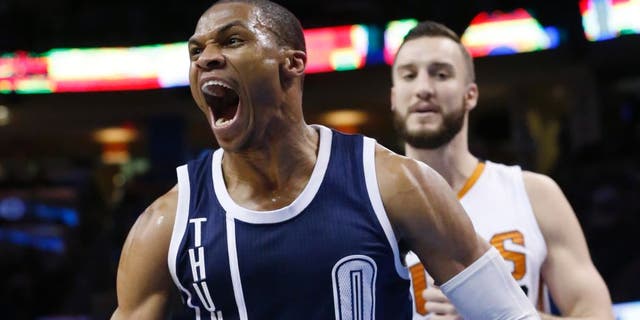 Russell Westbrook is coming off a 33-point, 15-rebound, eight-assist game against the Pistons on Monday, the type of production that has become commonplace for the Oklahoma City Thunder superstar.
Many around the league consider Westbrook the most physically gifted and relentless player in the NBA -- the type of one-man whirlwind that could possibly average a triple-double this season.
But even one of the most athletic players in the NBA has to study his opponents, right? Not Westbrook, who admitted that he plays on his phone while his teammates watch game film.
"I don't worry about other people," Westbrook told reporters Wednesday. "My job is to worry about what I'm able to do and hopefully they can stop that. Usually I just sit out and chill, relax, I play poker on my phone, play spades on my phone, listen to music. That's about it. I don't really pay too much attention to the game. Personnel-wise I'm able to pick up things very quickly throughout the game and play."
It's tough to criticize when you look at the results Westbrook has had this season. He's averaging 32.0 points, 9.7 rebounds and 9.9 assists, helping the Thunder to a 6-5 start despite no longer having Kevin Durant on the roster.