Royals look to start taking advantage of strong pitching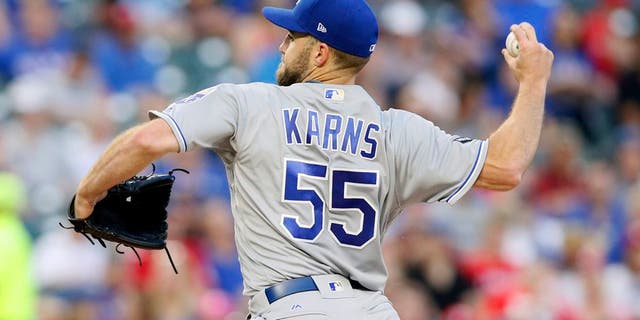 The Tampa Bay Rays just dropped two of three games to a Toronto Blue Jays team that had the worst record in baseball.
The Rays hope to experience better luck against the team that now owns the worst-in-the-majors distinction when they host the Kansas City Royals on Monday in the opener of a four-game series.
The Royals (10-20) have been held to one run or none 11 times already this season, including four shutouts, and they come to Tropicana Field fresh off a 1-0 loss in which five Cleveland Indians pitchers held them to one hit.
Salvador Perez's fourth-inning double was the only hit for Kansas City on Sunday. The Royals had two baserunners in the ninth, but pinch hitter Brandon Moss flied out to end another frustrating loss.
"We're just not scoring," Royals manager Ned Yost said after his team totaled four runs in three games against the Indians. "We're striking out way too many times. There's frustration there with the guys. For me to get frustrated, I've learned that's counterproductive."
The Rays have struggled against the Royals in recent years -- Tampa Bay is 8-25 against Kansas City over the past five years -- but that could change this week. The Royals are 2-11 on the road this season, and every other team in the majors has at least five road wins.
The Rays are getting better outings from their starting pitching -- four straight quality starts for the first time since last July. That includes an eight-inning outing Sunday from Alex Cobb, who took the loss despite holding Toronto to two runs on four hits.
The rotation shined even though the team went only 2-2 in those games.
"We're doing what we needed to do -- we were losing some games early on because we were asking too much of the bullpen," Cobb said. "We had them trying to cover innings instead of using them because we want to. (The starters) working deeper into games is going to do wonders for us moving forward."
On Monday, the Rays turn to second-year lefty Blake Snell, who is still seeking his first win of 2017 despite a solid 3.45 ERA. Snell (0-2) has gone five innings or less, however, in five consecutive starts and nine of his past 10 dating to last year.
Since the start of last season, he has averaged 19 pitches per inning, the most of any major league pitcher in that span. If he can join the rest of the rotation in pitching deeper into games, it will be harder for the bullpen to lose the leads he works hard to give to them.
Kansas City answers with right-hander Nate Karns, who was with the Rays in 2014-15 before being traded to the Seattle Mariners. Karns (1-2, 4.97 ERA) faced Tampa Bay once last season, getting a no-decision after giving up two runs in five innings while striking out eight batters.
Karns earned his first victory for Kansas City on Wednesday when he allowed one hit in six scoreless innings of a 6-1 win over the Chicago White Sox.