Ronda Rousey unsure her legacy will ever recover from the Holly Holm loss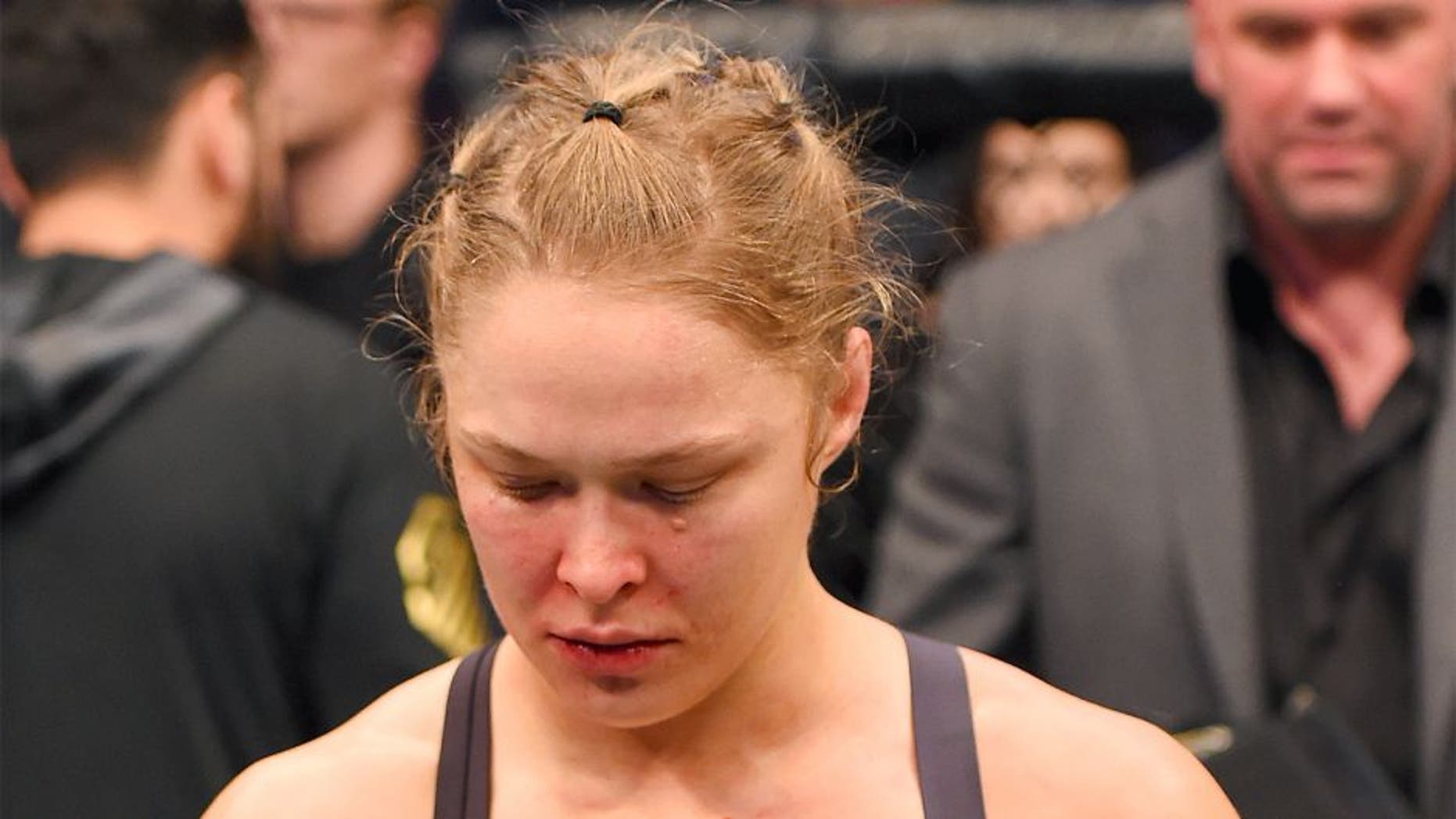 Ronda Rousey is starting to blaze her comeback trail to reclaim the UFC women's bantamweight title she lost last November, but she's still struggling to come to terms with her legacy being tarnished after the fight with Holly Holm.
Rousey had said for years that she wanted to retire undefeated and go down as one of the greatest fighters in the history of the sport.
While the latter is still obviously possible, Rousey knows she can no longer leave the sport behind without a single loss on her record and that's a tough pill to swallow.
As she begins to plot her return to action, Rousey says that she needs to find the passion that once flourished inside of her when she first became a professional fighter.
Long before the huge pay-per-views and million-dollar paydays, Rousey was just a fighter who one day wanted to win gold and she says that's who she wants to become again as she begins her pursuit of the title later this year.
"I'm still grieving the person that could have won it all but I have to live up to the fact that I'm not her, that's just who I'd like to be and instead I'm what I need to be for myself and everyone else," Rousey said to "Time."
"It's just that you have to go through those stages of acceptance and renewed optimism. You need to find that doe-eyed part of you that walked into an arena the first time and saw all the lights and like 'one day that's going to be me, one day my name's going to be up there'. One day I'm going to slap my stomach and there's metal under there, you know? That's what I need to find again."
Over the last few months, Rousey has stayed rather quiet about her return to action outside of a few random interviews she did around her "Sports Illustrated" swimsuit issue that was released earlier this year.
At the time, Rousey admitted she had suicidal thoughts in the waking moments after Holm knocked her out with a head kick in the second round of their fight at UFC 193.
Now as she starts thinking about her next fight in the Octagon, Rousey is trying to be inspired by the people who love her while also shutting out the people who don't.
"I have this wall in my house that's right outside my bathroom, it's all the good things that I put up there. Like little girl letters, the cutest, sweetest, most adorable things and I tape them all over my wall, that's my inspiration back to me. Like all the words from all those people that reached out to me that are like I'm somehow helping them and they're really helping me back. Because I hear so many of the worst things anyone could ever even imagine to think to say about me every single day. Thousands of times, all these people are constantly trying to reach me and tell me these negative things. People like to see people rise because they want to rise, but they like to see people fall because they want to feel like they're human like they are," Rousey explained.
"So that's why we keep doing this cycle of raising people up and letting them crash down. Raising people up and letting them crash down. I'm coming back to win this title for the people that believed in me."
Rousey's inspiration to return and win the title also comes from an emotional moment she shared with a fan at the UFC 193 open workouts in Australia.
According to Rousey, the woman who met her at the open workouts was dying of cancer and her only wish that day was to see her favorite fighter defend her belt against Holm. That moment still sticks with Rousey as she plans her return to action and she wants nothing more than to make that wish come true.
"She was like dying of cancer, she came to that open workout and stood out in the sun so she could have the chance to meet me. I promised her -- she was like 'please, please win' and I promised her I would win and I didn't," Rousey said with tears filing her eyes.
"I need to come back and I need to win to fulfill that promise."