Ronda Rousey teams with Tina Fey for 'Do Nothing B**ches' movie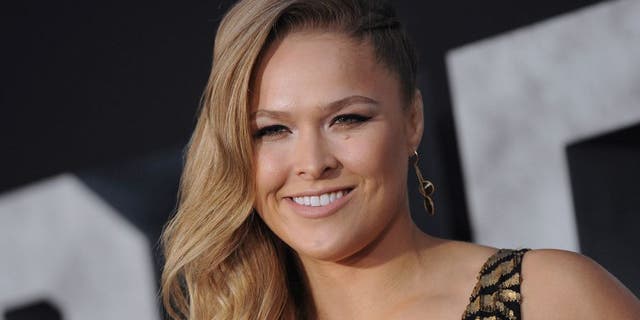 NEWYou can now listen to Fox News articles!
Ronda Rousey has booked another starring gig in an upcoming feature film alongside Tina Fey as her signature catchphrase has now become a comedy that landed at Universal Pictures.
According to Deadline, Rousey has been attached to star alongside Fey in the movie "Do Nothing Bitches," which is being written by "Sisters" scribe Paula Pell.
The title comes from Rousey's pre-fight interview during an episode of "UFC Embedded" ahead of UFC 190 when she described how she wasn't a "do nothing b -- ch" and how that related to other women in the world.
"I have this one term for the kind of woman that my mother raised me to not be. I call it a 'do-nothing b--ch.' Or, I call it a 'DNB' a lot of the time," Rousey said back in August.
"That's why I think it's hilarious if people say that my body looks masculine, or something like that. I'm just like, 'Listen, just because my body was developed for a purpose other than f---ing millionaires doesn't mean it's masculine.' I think it's femininely badass as f--k, because there's not a single muscle on my body that isn't for a purpose. Because, I'm not a do-nothing b--ch."
Rousey eventually filed a trademark for the phrase so chances are she's going to get paid for the use of the term in the movie as well.
As far as the plot of the movie, everybody seems tight-lipped at this point about the project, but Deadline reports that the film is based on a group of "wealthy pampered wives who get a rude awakening at a camp where Rousey plays the no-nonsense instructor."
Rousey has been keeping rather busy lately, with this new project just being the latest in a long line of filming obligations she has lined up. On Jan. 23, Rousey will host "Saturday Night Live" before she films two movies back to back with the "Road House" remake as well as "Mile 22" alongside Mark Wahlberg.
She's also expected to star in a biopic about her own life based on her autobiography "My Fight/Your Fight" that's currently in development.
With all her acting gigs, Rousey has put fighting on hold for the moment although UFC president Dana White has insisted that the former champion will return to action before the end of 2016.