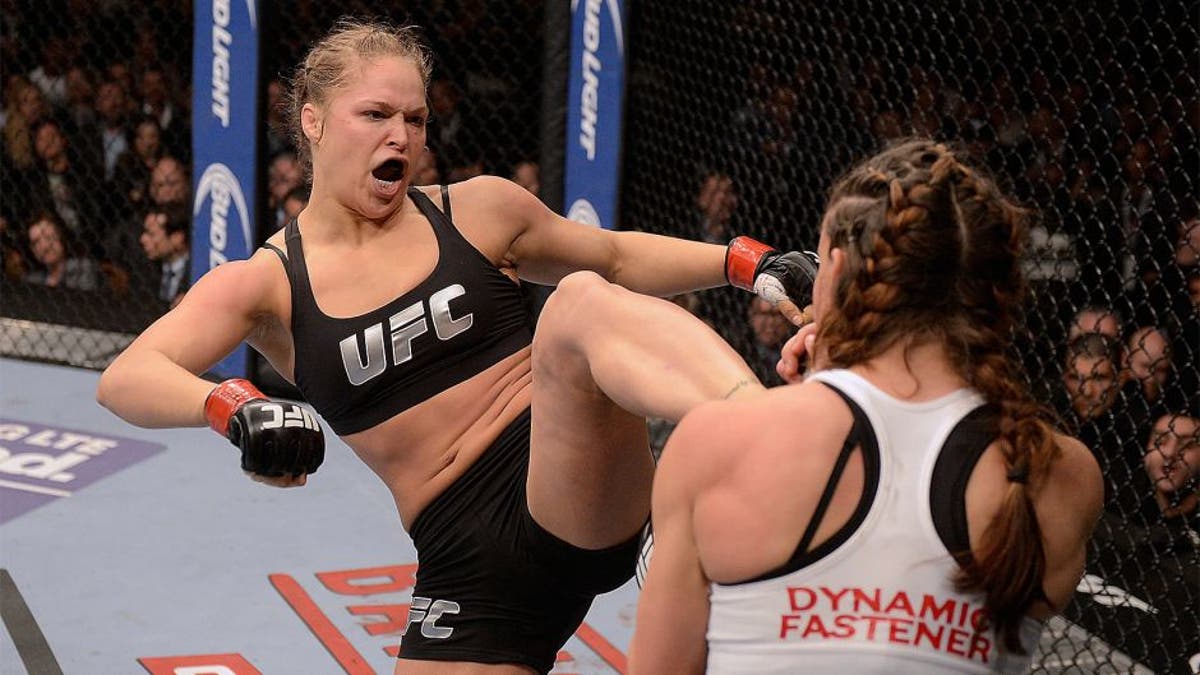 UFC women's bantamweight champion Ronda Rousey has famously dispatched her last three opponents in record time with the trio of fights ending in just 96 seconds combined.
Rousey has only gone out of the first round once during her career and nine of her 11 career wins have ended in under two minutes.
Despite those eye-popping statistics, Rousey raised more than a few eyebrows ahead of her fight this weekend against Bethe Correia at UFC 190 when she said that she plans to prolong the beating to make sure this latest opponent really suffers.
Correia landed on Rousey's radar by beating two of her closest friends -- Jessamyn Duke and Shayna Baszler -- but didn't actually get under the champion's skin until she decided to make a crude comment referencing suicide, and that hit way too close to home for the Olympic bronze medalist. Rousey lost her father when she was a child after he took his own life and that only stoked the flames of the fire she had burning inside to embarrass Correia in Brazil.
As much as Rousey talked about dragging the fight out to punish Correia, she can't deny that her mother wasn't a very big fan of the idea.
"To be honest, my mom's pissed and she doesn't want me to do it," Rousey said recently. "And she chewed me out. She wants me to end it as quick as possible still. And I promised her that I'm going to be fine. I'm not going to take any damage.
"And if it goes any longer it's just because I'm punishing her more and I'm not going to purposely not finish her if I see something. But I could still drag it out and make the finish just a little bit more thorough."
Rousey's mother weighed in on the subject as well recently when explaining why she didn't want to see her daughter go out and prolong the fight if she could potentially end it within seconds of the first round and starting like she has in her past few trips to the Octagon.
"Ronda had this idea 'I'm going to beat her up, I'm going to do this' and I said that's a really stupid idea," Rousey's mother AnnMaria Demars said during an episode of UFC Embedded. "Because even if somebody has a one in a million chance per second of beating you, if you let it go 60 seconds when you could have done it in 10, you gave them six times the chance.
"That's just stupid. I said if you want to get even and embarrass somebody, do whatever, do a backbend on her arm and make it go a 45 degree angle. That's one way to do it without giving me a heart attack."
The other side of the argument that Rousey receives for the lightning fast finishes is the interest in paying upwards of $60 to see a fight that ends in under 30 seconds.
She's stated numerous times that the quick endings to her fights are never planned, but that's part of what makes watching her must-see TV. Rousey knows in her heart that every time she performs, something crazy is bound to happen and that's good enough reason to tune into her Pay-Per-Views whenever she's fighting.
"I think it's gotten to the point where people are becoming aware that this is a very, very special time. And if they decide to do something else that day, it's going to be a moment that they could have witnessed and didn't," Rousey said. "I'm not going to call it and say oh, this fight's going to end in under 20 seconds because I'm not. Those fights that ended that quickly, I did not intend for them to end that quickly. It's just that's how it ended up because I improvise while I'm out there.
"I'm ready for a five-round war. That's how I walk out there and that's what I prepare for. And who knows what's going to happen? But what people are seeing is the absolute peak of the athletic woman's potential. And that is always worth the money."
So what is an extended beatdown according to Rousey? Is it three rounds of punishment and then finishing an opponent? Is it applying and twisting a submission past the breaking point?
Well, according to Rousey it might only mean a little more than 15 seconds, but it will be a vicious and one-sided encounter no matter how long it lasts.
"Longer than Instagram size?" Rousey joked when Jim Rome asked how long she envisioned the fight lasting. "I prepare for a five-round brawl. That's what I go in there ready for and I'm not rushing to get a finish right away, it's just things open up because I'm not trying to force them."