Ronda Rousey & Joanna Jedrzejczyk issued six-month medical suspensions after UFC 193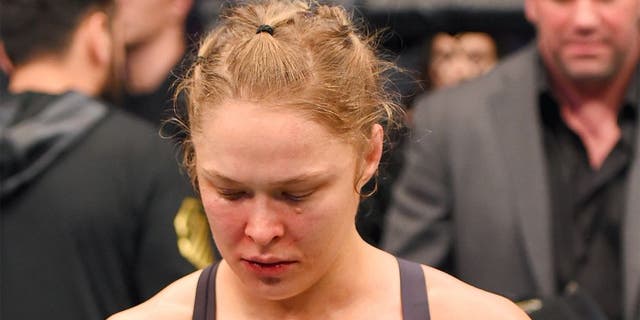 Both strawweight champion Joanna Jedrzejczyk and former bantamweight champion Ronda Rousey were issued six-month medical suspensions by the UFC after their fights at UFC 193 this past weekend, due to the extent of their injuries.
The medical suspensions usually are handled by state athletic commissions regulating the fights and not made public. However, for last weekend's fight card in Australia, the UFC regulated itself in the absence of a commission and released a full list of medical suspensions to MixedMartialArts.com.
The suspension descriptions indicate concern for a head injury with Rousey and a broken right hand with Jedrzejczyk. The strawweight champion won a decision over Valerie Letourneau but felt she probably broke her hand as she had earlier in the year.
The medical suspension issued by the UFC mandates Jedrzejczyk not fight again within 45 days, and have no contact or real training for 30. She is suspended for 180 days unless cleared by an orthopedic doctor after having an X-ray examination that reveals no damage.
Rousey's suspension is also for 180 days, unless she is cleared by a head CT scan that reveals no damage. She is not to fight again for 60 days and not to have contact for 45.
Rousey lost for the first time as an MMA fighter, via second-round KO to Holly Holm, in the main event of UFC 193. Both she and her head coach Edmond Tarverdyan have indicated in statements that the plan is for her to take time to rest. She's fought three times in the past three months, with a very short turnaround from her fight in August to this past one.
The full medical suspension list for UFC 193 fighters is below:
Ryan Benoit: 30 days no fight, 21 days no contact
Ben Nguyen: 7 days mandatory rest
Steven Kennedy: 180 days or cleared with negative x-ray of left thumb; 30 days no fight, 21 days no contact
Richard Walsh: 7 days mandatory rest
Steve Montgomery: 7 days mandatory rest
Daniel Kelly: 7 days mandatory rest
James Moontasri: 7 days mandatory rest
Anton Zafir: 30 days no fight, 21 days no contact
Danny Martinez: 7 days mandatory rest
Richard Vaculik: 30 days no fight, 21 days no contact
Gian Villante: 7 days mandatory rest
Anthony Perosh: 45 days no fight, 30 days no contact
Peter Sobotta: 7 days mandatory rest
Kyle Noke: 7 days mandatory rest
Akbarh Jimenez: 45 days no fight, 30 days no contact
Jake Matthews: 45 days no fight, 30 days no contact
Jared Rosholt: 180 days or clear CT of right tibia/fibia; 30 days no fight, 21 days no contact
Stefan Struve: 7 days mandatory rest
Robert Whitaker: 180 days or cleared by ortho of left ankle and right hand; 30 days no fight, 21 days no contact
Urijah Hall: 30 days no fight, 21 days no contact
Antonio Silva: 45 days no fight, 30 days no contact
Mark Hunt: 7 days mandatory rest
Valerie Letourneau: 180 days or cleared by negative head CT scan; 45 days no fight, 30 days no contact
Joanna Jedrzejczyk: 180 days or cleared by ortho w/ right hand x-ray; 45 days no fight, 30 days no contact
Holly Holm: 7 days mandatory rest
Ronda Rousey: 180 days or cleared by negative head CT scan; 60 days no fight, 45 days no contact