Ronda Rousey: 'I'm not trying to have everyone like me'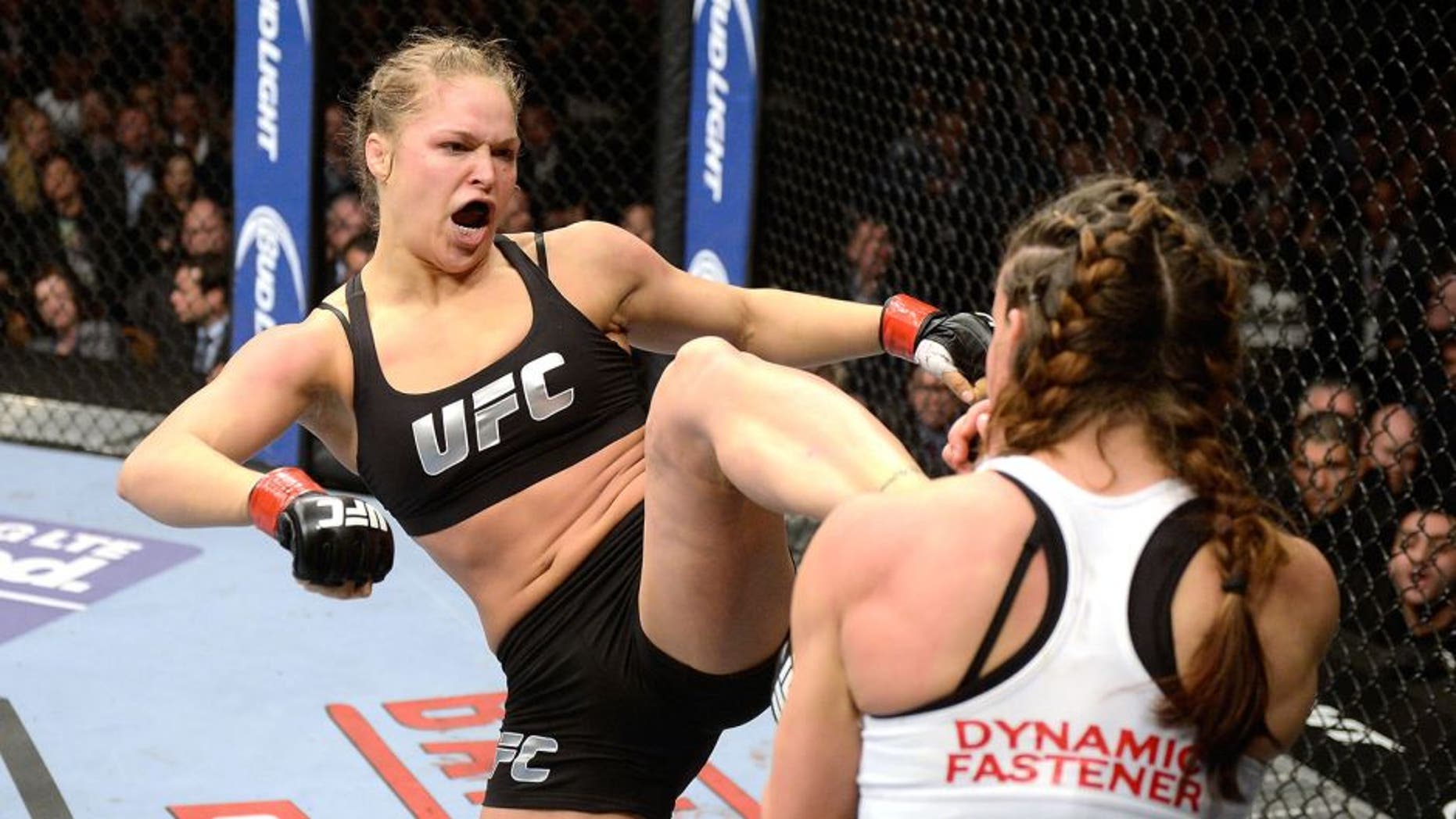 There's not much debate these days regarding women's bantamweight champion Ronda Rousey being the biggest star on the entire UFC roster.
Rousey's most recent fight against Bethe Correia at UFC 190 is currently the top show for the promotion in 2015. The card smashed every other sport, TV series and movie during that weekend on Twitter in terms of overall impact, trending topics and unique authors talking about her performance.
Rousey has support from fellow athletes and celebrities from around the world, who treat her like a sports icon and the ultimate symbol of feminism as she breaks boundaries almost as quickly as she shatters her opponents inside the Octagon.
To add onto her pop-culture crossover success, Rousey starred in "Furious 7", which raked in over a billion dollars in 2015, and she has a starring role opposite Mark Wahlberg booked for 2016. Rousey will also star in a biopic being developed from the autobiography she released earlier this year.
She even has pop stars like Beyoncé using her quotes in concert and national championship-winning quarterbacks crushing on her via Twitter.
Despite all those accolades and the universal love Rousey seems to receive from across the globe, the most dominant athlete in all of sports still feels like she's playing the bad guy whenever she steps into any of her fights.
"I'm the antagonist. Because the protagonist just reacts. They do nothing. The whole storyline, the whole everything that goes on is completely dependent on the antagonist. I'm the one that's forcing everybody to do something," Rousey said when appearing on the "Joe Rogan Podcast" recently. "I like to think of myself of more like the heel, like the bad guy you somehow, sometimes you root for, you can't help it a little bit. Sometimes you hate them. I think the fact that mixed emotions come out is one of the more interesting things.
"I'm not trying to have everyone like me -- I'm trying to have everyone care what I'm doing."
Part of Rousey's perception about being a villain might stem from her season-long hatefest with fellow bantamweight Miesha Tate while they were filming "The Ultimate Fighter".
When the show came to an end, Rousey didn't exactly walk away with a positive experience and the interactions on air only amplified those feelings. It all culminated when Rousey defeated Tate at UFC 168 in 2013, and after the fight was over, the bantamweight champion refused to shake her opponent's hand.
As much as fighters like to leave it all in the cage and show respect toward each other after the competition is finished, Rousey knew deep down inside that Tate was only extending her hand because the cameras were rolling. If the situations were reversed and Tate was standing over top of her victorious, Rousey knows there wouldn't have been one bit of goodwill between the fighters.
"It was a totally disingenuous gesture for her to offer her handshake because she would have never offered a handshake if she wasn't being watched by millions of people," Rousey said. "I wouldn't have shaken her hand if we were alone in the room or we had millions of people watching.
"The fact that I'm not going to play to the crowd -- it would have been so easy to shake her hand and everybody would have cheered -- but I felt like it would have been dishonest. Honesty pays, but it pays very slowly and it doesn't pay very consistently."
In the weeks and months since that fight with Tate in 2013, Rousey never changed who she was in or out of the Octagon, but her public persona has taken a 180-degree turn from getting booed in Las Vegas to thousands of fans cheering her name when she appeared in Brazil last month.
Rousey might envision herself as the bad guy, but the world has enveloped her as a hero and role model.
Whether she's loved or hated, however, Rousey is enjoying her time on top and she knows fans and detractors alike are going to be sad when she finally hangs up her gloves for the last time.
"I think it's kind of funny there's so many people that just live to hate me, but when I'm gone, they're going to miss me," Rousey said.
"Like how are they ever going to have a bad guy better than Heath Ledger as the Joker? Like you need him, you miss him, the Joker's gone! You're never going to have Joker again."