Ronaldo's Portugal following the playbook of the team that beat them in last Euro final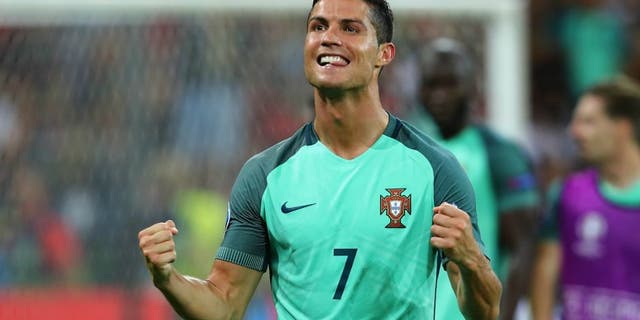 NEWYou can now listen to Fox News articles!
For the first time in 12 years, Portugal are back in the Euro final. Cristiano Ronaldo was on the wrong side of history against Greece in 2004 as a teenager, but now the script flips, as he finds himself the underdog in a team that has more than a few similarities with the '04 champs.
On paper, 2016 Portugal and 2004 Greece don't have much in common. Portugal boasts perhaps the world's most recognizable athlete, the world's most expensive teenager, and a team full of players already established at European powerhouses. Greece was an unheralded group with no recognizable star names. Despite having never won a major trophy, Portugal has long been an international force, dating all the way back to their 1966 third-place World Cup finish, led by the legendary Eusebio. Greece, on the other hand, had almost no footballing history to speak of, with 2004's Euro win far and away their greatest achievement; a one-off that seems several degrees past unlikely to occur again.
But yet the vanquished hosts from 2004 are now in the final, and Portugal have done it in a very 2004 Grecian way. Before their 2-0 semifinal win against Wales, Portugal hadn't even won a match outright this tournament, relying more on defensive efforts and organization than the typical Brazilian-esque flair the men from the Iberian Peninsula are typically known for.
Fans flocked to the Portuguese teams of the past because of their distinctive style, heavily laden with otherworldly creative talents like Luis Figo, Manuel Rui Costa, Deco, and of course, Ronaldo. But this time, Portugal's play has been plodding, uninspired and, at times, disjointed. They didn't record a shot on goal for 117 minutes against Croatia in what was expected to be one of the tournament's most thrilling matches, and if not for individual bits of magic from Ronaldo, Renato Sanches and Nani (yes, that Nani), they'd be home watching a more exciting team play. But they have gottent hose bits of magic and Portugal manager Fernando Santos has embraced Otto Rehhagel's 2004 blueprint with impunity.
Loath to concede any space in dangerous areas, Santos has set his team up with a "safety-first, excitement-never" mindset. Aside from the aforementioned bright spots, midfield hardman Adrien Silva has been the real star for Portugal, working tirelessly to mark opposition playmakers like Luka Modric out of games and ensuring his more-vaunted teammates have at least a modicum of freedom to weave their magic. He may not do much with the ball at his feet, but that's secondary to what he can do defensively, which just about sums up his team. This Portugal isn't set up like the magical Portuguese sides of the past that dazzled and disappointed. They're set up to win at all costs.
In the 12 years since that loss to Greece in the Euro final, Portugal have been to three World Cups, never making it to a final. They haven't made it to a Euro final, either. Time after time, they've gone into tournaments full of talent, but have fallen to teams with just a bit more talent, like when Spain ousted them in the Euro semis four years ago. But that hasn't been a problem this time around because talent and flair aren't what they've relied on. They look a lot more like the Greece team that broke their hears in 2004 than any Portugal team since.
Those Euros were Ronaldo's first international tournament, and it left him in tears as heavily favored Portugal had their dreams shattered by the unheralded Greeks. Twelve years and six international tournaments later, Ronaldo is the star, but in his second-ever final, this time his team go into the Euro 2016 as distinct underdogs. And he's hoping the defensive, physical, unappealing but exceedingly effective underdogs come out on top, just like they did last time.
MORE FROM FOX SOCCER