Ron Wolf, architect of Packers revival, headed to Hall of Fame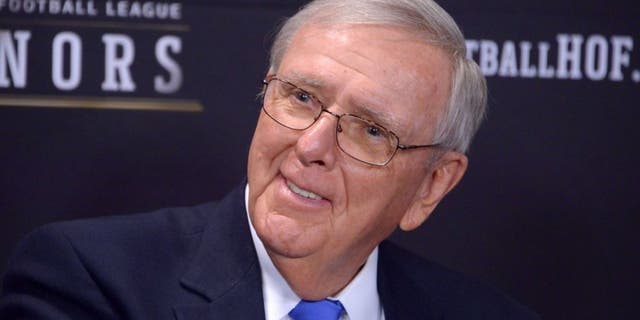 GREEN BAY, Wis. -- When the Green Bay Packers were searching for someone to help rekindle the glory of the Lombardi years, they turned to Ron Wolf.
Wolf turned the Packers back into a powerhouse and now he's been rewarded with election to the Pro Football Hall of Fame.
"I'm about five feet off the ground now when I walk," Wolf said. "It's a startling thing, the realization that I'm going in with the pillars, if you will, of professional football."
Wolf, who had a hand in drafting fellow 2015 inductee Tim Brown, began his NFL career as a scout for the Oakland Raiders in 1963, beginning a more than 24-year run with Al Davis.
The first wave of stars he took part in drafting included Art Shell, Ken Stabler, Jack Tatum and Gene Upshaw, all of whom would play for the Super Bowl championship team in 1976 after Wolf had gone to Tampa.
Although Wolf helped build the expansion Buccaneers team that would reach the 1979 NFC championship game, he was gone by that time after the franchise's 0-26 start.
"I kind of laid a huge egg in Tampa and I knew what I did wrong. And I vowed if I ever got the opportunity again that would never happen," Wolf said.
He worried, however, that he'd never get that second chance because of his age.
A month shy of his 53rd birthday, however, Bob Harlan hired him in Green Bay in 1991.
Wolf hired coach Mike Holmgren, traded for Brett Favre and a year later lured free agent Reggie White.
The trio helped make Green Bay a desirable destination for future free agents, and White's arrival also helped eradicate the perception that Titletown was a place where blacks felt uncomfortable.
The NFL's Siberia was suddenly its utopia.
"It was like the stars fell in line at the right time," said Favre, who called Wolf simply "the best GM in all of football."
Wolf always remained approachable. When star safety LeRoy Butler's contract was coming up, Wolf went down to practice one day and asked him, "You like it in Green Bay?"
"I love it in Green Bay," Butler replied.
"Well, you come up to my office," Wolf said. "We'll make sure you stay here the rest of your career."
Done.
Wolf also surrounded himself with superb talent evaluators. His staff in Green Bay in the 1990s might go down as the greatest collection of personnel evaluation talent in one place in NFL history. Five of his understudies went on to get GM jobs in the NFL: John Dorsey, Scot McCloughan, Reggie McKenzie, John Schneider and Ted Thompson.
When Wolf got to Green Bay, the Packers owned just four winning seasons since Vince Lombardi had left town following wins in the first two Super Bowls. During his nine years as GM, the Packers' .639 winning percentage (92-52) was second only to San Francisco. They went to the playoffs six straight years and beat New England in the Super Bowl following the 1996 season.
"We did it my way and it worked," Wolf said.
The key to it all was Favre, whom the Falcons had selected with the 33rd overall pick in 1991.
"I thought he was the best player in the 1991 draft bar none and it turned out he was," said Wolf, who actually had to ignore Favre's flunked physical. The Packers' medical staff recommended sending Favre back to Atlanta because of a bum hip.
Wolf would have none of it.
"I went down and told the guys, `We are going to take Brett Favre," Wolf recounted. "And the rest, as they say, is history."
Wolf also was adept at plugging holes, like he did when they won the Super Bowl with key contributions from Andre Rison, Desmond Howard and Don Beebe.
"The reason it was a great fit -- and he will never, never take the credit -- was because of Ron Wolf," Favre said. "Isn't the mark of a great GM a man who can make it fit, find those guys, they don't have to be star players but they have to fit what we're trying to do?"
Wolf orchestrated 89 trades during his tenure in Green Bay, 67 more than any other team -- despite never using a cellphone or sending an email, both of which were commonplace by the time he retired in 2001.
He said his biggest regret was hoisting but one Lombardi trophy in Green Bay. But what a parade -- and ride -- it was.