Rolex 24 win gets Allmendinger going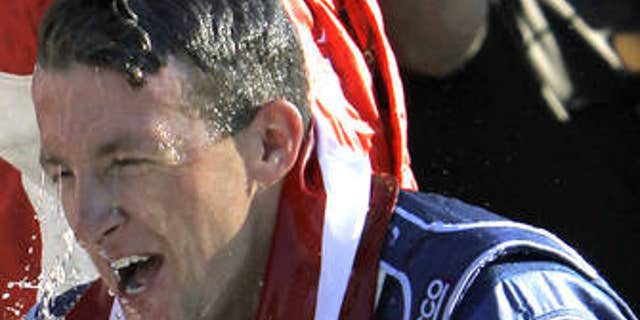 DAYTONA BEACH, Fla. – An A-list of drivers and the largest crowd in memory showed up for the 50th anniversary running of the Rolex 24 sports car epic, and a NASCAR race broke out.
As did a NASCAR driver.
Six years removed from a promising career in IndyCar, and a month out from signing a NASCAR Sprint Cup Series deal to drive for the legendary Roger Penske, Californian AJ Allmendinger opened Daytona Speedweeks with the greatest triumph of his career.
An American racer in an American-made car (Ford) competing for an American-based team (Michael Shank Racing) bested the world's greatest offering of sports car aces and open-wheel champions.
And he did it in convincing fashion, even using some good ol' fender rubbing on the Daytona International Speedway road course.
"It's the biggest win I've ever had,'' said Allmendinger, 30. "But just because I've won this doesn't change my goals to win in (Sprint) Cup. It is confidence, though.''
Allmendinger's determination was never more evident than when he went door-to-door for the race lead with the great Scottish sports car driver Allan McNish. The cars touched while racing hard in the infield and McNish prevailed.
But minutes later, with only about two hours remaining in the race, they came together dramatically while sprinting along the high-banked superspeedway portion of the track. Allmendinger got by McNish and the car never trailed again.
"Like I told my 6-year-old son, 'rubbin's racing' -- that's what Lightning McQueen says,'' McNish said, referring to the animated "Cars" character and conceding he hadn't expected that type of aggressive driving. "It was hard racing, but it was probably a good example for how important it was for AJ and his team to win, as it was for us.
"At the time I was a little surprised about it, but that's the way it is.''
Allmendinger smiled when asked for his version of the events.
"I wasn't a big fan of the Turn 1 incident,'' Allmendinger said, adding with a grin. "So I'll take the line from any Cup driver: 'My car just got free we when we got to Turn 2.'
"It was all about the car in the lead, knew it was going to be tough to pass, that's why we were fighting so hard. ''
Allmendinger's swagger has been unmistakable since signing this offseason to drive Penske's No. 22 Shell-Pennzoil-sponsored Dodge in the Cup series. It was palpable this week even as he prepared for the 24-hour race. He was perpetually smiling, upbeat and eager.
The demeanor was reminiscent of his days in Champ Car, where he won the 2004 Rookie of the Year honors and a season-best five races in 2006 before leaving the next year to give NASCAR a try with the struggling start-up Red Bull Racing team.
Penske will be his fourth Cup team in five seasons, but his best chance for success.
"2007 was hell, honestly,'' Allmendinger reflected. "It was the worst year of my life when it came to my career. There were plenty of times in my bus on a Friday missing a race that it was either, should I go back to IndyCar or slit my wrists?
"It sounds kind of over the top, but you know, I knew I wanted to be in the Sprint Cup Series; that's where the best of the best was.
"The last few years have been tough. I feel like I've at least gotten on a rhythm and it makes me feel good to know that a guy like Roger Penske can look at my talent and say, 'you know what, he might not have a Cup win and you have Shell-Pennzoil that's used to winners and champions in their cars, but if we give him the right stuff, he might be able to do that.' ''
It is part of what makes this weekend's victory more significant for him and a popular win all around the paddock.
Daytona 500-winning driver Jamie McMurray knows a thing or two about getting around the famed Daytona track, but it couldn't compensate for the mechanical gremlins that tortuously settled the Rolex 24 for his Chip Ganassi Racing team.
"I'm good friends with AJ and it's really cool to see him win like this,'' a gracious McMurray said. "AJ's a good guy and a super-talented driver and they clearly had the fastest car.''
For all their laps at the track, NASCAR drivers haven't fared so well in America's most famous sports car race. Only three other times in the race's storied 50-year history has a NASCAR driver been on the winning team.
In addition to Allmendinger's prize-winning effort, Michael McDowell co-drove the other Shank team car to third place. McMurray and Juan Pablo Montoya -- the only NASCAR diver with multiple wins (2) in the Rolex -- were co-drivers on Ganassi's fourth-place entry.
Andy Lally, the 2011 Sprint Cup Series Rookie of the Year, won the GT production-based class in his first race back in sports cars after leaving NASCAR late last season.
"In regards for NASCAR, it was a tough year, but even knowing how tough it would be, it was a shot I'd take again today,'' Lally said. "As tough and humbling as that was. . . . to come back and drive with talents like this, it's really cool to transition back in and get back into the swing of things right off the bat.''
Max Papis, who will make a handful of NASCAR starts in 2012, finished ninth overall; Colin Braun was 19th. Two-time Daytona 500 winner Michael Waltrip and his newly-hired NASCAR driver Travis Pastrana teamed to finish 35th overall, 22nd in the GT class. Fourth-generation driver Jeffrey Earnhardt finished 51st among the 59 cars, retiring early with mechanical problems.
This weekend was Allmendinger's. And even being too exhausted to finagle the champagne cork off his bottle, he clearly was enjoying a moment he remembered well: winning.
"You win a race, especially as big as the 50th anniversary of the Rolex, and it's just confidence,'' Allmendinger said. "And that'll take any race car driver -- anybody for that matter -- further than he can expect.
"I knew that every single lap I had to drive my butt off,'' Allmendinger added. "And I honestly never try to give myself a ton of credit, but I feel like that's some of the best three hours of driving I've ever done in my life.
"But,'' he said with a smile, "they'll knock me back down when I get to Speedweeks, don't worry about that.''