Roddick faces Juan Martin del Potro on Tuesday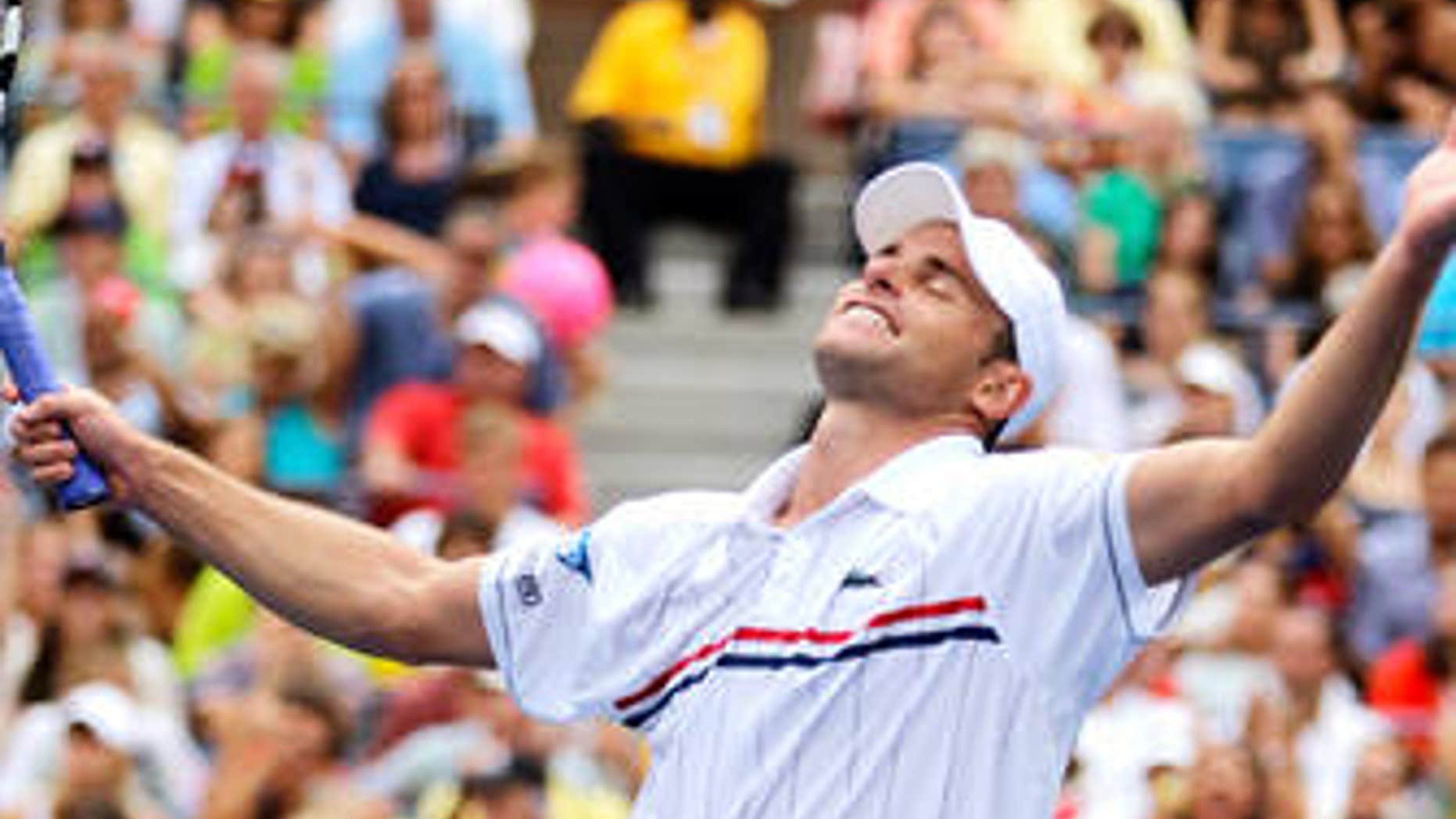 Andy Roddick's extended retirement plans are still on a flexible time line.
After beating Italy's Fabio Fognini 7-5, 7-6, 4-6, 6-4 in a physically and emotionally exhausting battle that lasted exactly three hours in front of a vast, adoring crowd at Arthur Ashe Stadium, Roddick has to prepare himself for another possible farewell.
It could come on Tuesday evening -- presuming the referee's office understands how to grab a box office moment -- when Roddick will have to play Juan Martin del Potro, who, over the past nine years, has been the only player other than Roddick to have broken through the top three stranglehold that Roger Federer, Rafael Nadal and Novak Djokovic have held on these championships.
They have had big battles in the past, and the tall Argentine led 3-0 in career meetings until Roddick beat him last time out. "He's a tough match-up for anybody because he hits such a big ball. I'm going to have to serve well and try and rush him a little. When he gets into a groove and has time, he'll put a hurt onto the ball."
Right now, Roddick is feeling no hurt. "This whole process, I'm not trying to over think it," he said. "I'm enjoying it. I'm comfortable out there. I'd be an idiot not to use the crowd right now. It's a huge advantage. I've been surprised by the support. I thought, inside our world, it would be something, but I don't know (that) I expected all of this. It's been a special experience for me."
Inevitable comparisons are being made with Jimmy Connors' last hurrah here 21 years ago. Connors, the brash, apparently egotistical champion, coached Roddick for a while. When asked about if Connors ever talked about his last hurrah, Roddick gave some interesting and, perhaps surprising, insight into Connors' character. "Jimmy, unlike a lot of people who have had as much success as he's had, doesn't like to talk about Jimmy in the past. He doesn't reference himself at every turn. He certainly didn't equate everything that happened on a tennis court back to something that he did that was great."
Andre Agassi's farewell was mentioned, too, but Roddick shied away from comparisons. "I don't view anything I would ever do in the context of those guys," he said. But when asked about how he followed in the footsteps of Connors, Agassi, Pete Sampras and Jim Courier, Roddick said, "It was always a tall task. You're coming off what will always be the greatest generation, or two generations, from any place, ever, so it was always going to be a steep hill. But I felt like it was a responsibility. It's a bit of a lineage in this country, and I did my best. Even if I didn't get the results I wanted all the time, I, at least, went about it the right way and created a bit of a culture in American tennis. That's something I'm proud of."
Fognini is a bearded quirky figure from San Remo, blessed with much of improvisational skills that some of his Italian forebears like Beppi Merlo enjoyed. He is a real handful on clay but is improving all the time on hard courts and came up with one of the best "through-leg" shots we've seen for a long time.
Serving big and coming in more than he has done of late, Roddick gave Fognini plenty of chances to pass and the Italian grabbed many of them. But it worked the other way round, too. "On the second point of the tie break, I made really good volley and he passed me unbelievable," said Fognini. "It was tough match, but I played well. Great atmosphere. The crowd was OK. We are in America. (It) is normal."
Not really. The reception Roddick received at the end was like a wall of noise rolling down from the steep stands and, not for the first time these past few days, Roddick was misty eyed.
"Each match is almost like it's another memory," he said.
There will be more to come.
Del Potro, meanwhile, was hitting his way past fellow Argentine Leonardo Mayer 6-3, 7-5, 7-6 soon after defending champion Novak Djokovic had brushed aside Frenchman Julien Benneteau 6-3, 6-2, 6-2.
There was a moment when another Frenchman, the 13th seed Richard Gasquet, appeared to be in a spot against one of those young Americans who have taken steps forward here this week. Steve Johnson, the NCAA champion out of USC, led by four points to nil in the first set tie break, having kept Gasquet at bay with his big serve. But then it all fell apart. Gasquet won seven straight points and never looked back, winning 7-6, 6-2, 6-3.
The crowd at Louis Armstrong were entertained as title-holder Sam Stosur came through against the 18-year-old British hope Laura Robson 6-4, 6-4. The score is slightly misleading.
Robson, hitting her left-handed forehand with great power, broke early and led 40-15 for a 3-1 lead before mistakes cost her dear and then had two break points at 4-4.
Stosur scrambled out of those but then, at the end of the second set, needed no less than nine match points before she could dispatch her determined opponent who kept on forcing errors from the Australian with her hard-driven ground strokes.
Like Sloane Stephens, Jack Sock and Johnson, Robson will return here in future years and do big things.