Rockies turn the most anti-climactic triple play you'll ever see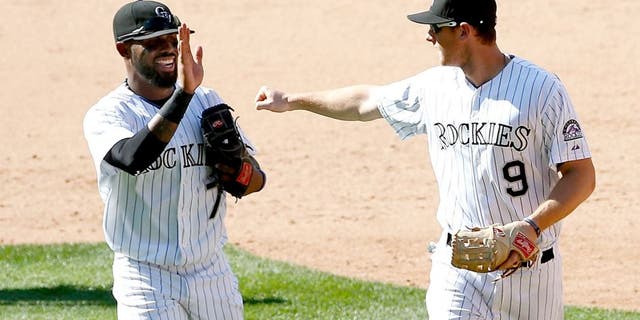 One of baseball's rarest feats, triple plays are almost always bang-bang plays that are exhilarating to watch, if not only for their infrequency, but the Rockies turned a triple play on Tuesday that made the play seem routine and flat-out mundane.
In the top of the ninth inning of the Rockies' 6-4 loss to the Diamondbacks in the first game of the teams' doubleheader at Coors Field on Tuesday, D-backs first baseman Paul Goldschmidt was at the plate with Phil Gosselin on first and Ender Inciarte on second.
On an 0-2 off-speed pitch, both runners took off, putting them in motion to almost certainly score if Goldschmidt could hit the ball out of the infield.
However, he didn't.
Instead, the D-backs' attempt to add some insurance runs was completely thwarted when Goldschmidt lined out directly to Rockies shortstop Jose Reyes.
Both runners were nearly touching the next base as Reyes caught the ball, giving them no chance to return to first and second, respectively, before the Rockies completed one of the most uninspiring triple plays you'll ever see.
Reyes flipped the ball to second baseman DJ LeMahieu for the second out. With all the time in the world to nab Gosselin and first, LeMahieu casually tossed the ball to first baseman Ben Paulsen to complete the anti-climactic triple play.
The two takeaways from the play?
1) It seems foolish to put runners in motion with no outs and slugger Paul Goldschmidt up to bat. But of course, hindsight is 20/20. If Goldschmidt hits the ball over Reyes' head, the D-backs have a chance to add two insurance runs for the back-end of their bullpen in the bottom of the ninth.
2) Not all triple plays are made the same.