Rio 2016: Mexico's 'El Tri' fails to defend gold medal after loss to South Korea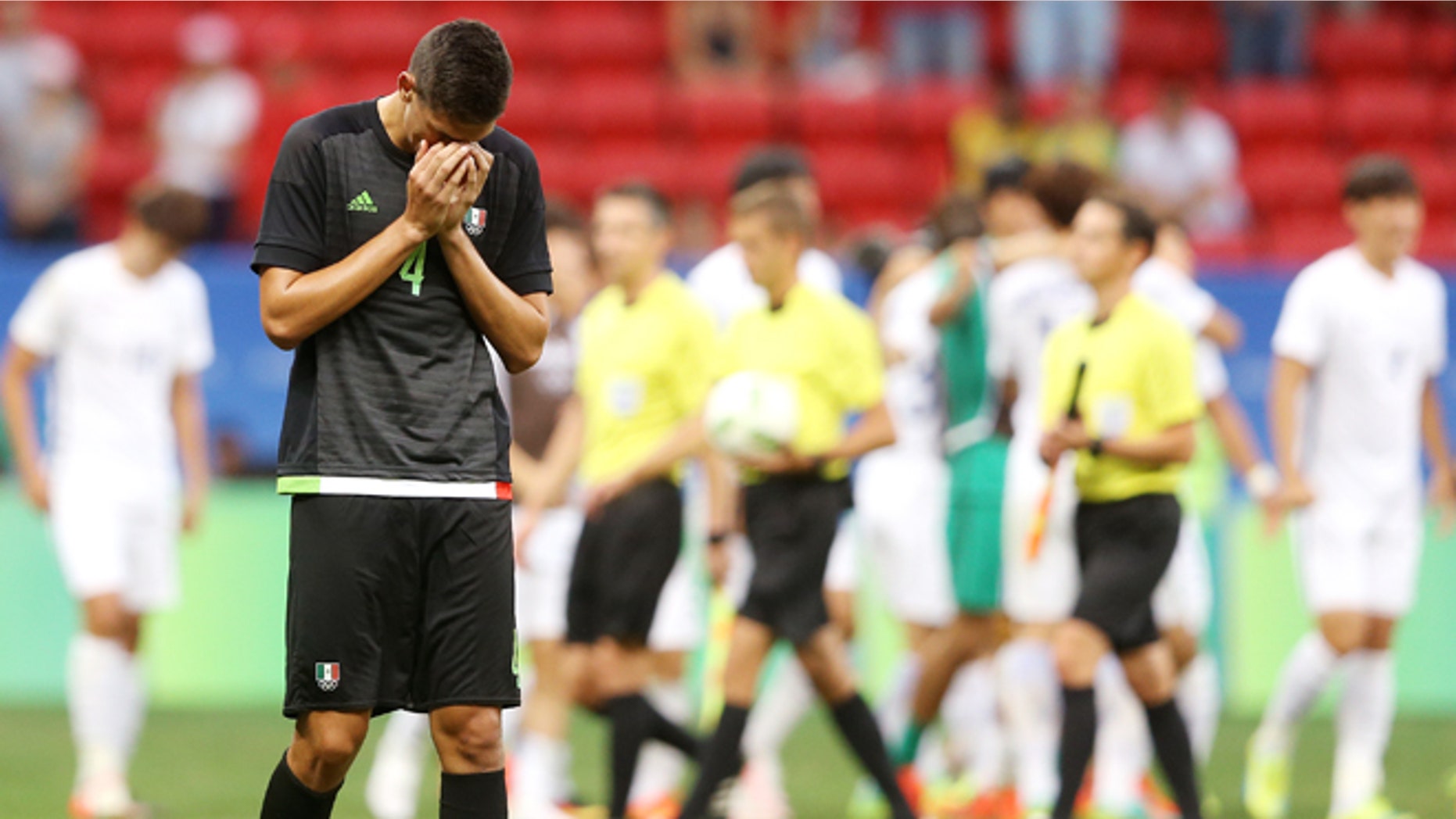 This hasn't been a particularly memorable summer for Mexican national teams — young and old.
In Copa America Centenario, the full side was humiliated by a 7-0 trouncing by eventual champion Chile in the quarterfinals.
And on Wednesday at the Rio Olympics, the defending gold medalists were eliminated from the competition in the group stage, dropping an excruciating 1-0 decision to South Korea.
Both are disappointing results for their own reasons. Since Mexico is more popular than the U.S. national team on American soil, many observers felt the tournament was the Mexicans to lose as some experts were savoring a possible Mexico-Argentina confrontation in the final. And as it turned out, they lost, well before anyone expected.
What was just as shocking was that head coach Juan Carlos Osorio was given a stay of execution by a Mexican Football Federation that has a reputation of changing coaches as quickly as it changes its underwear. He will live and coach another day and probably many days.
After El Tri's great success at the 2012 London Summer Games, there were some great expectations for this side. It certainly didn't hurt that Rio 2016 was being held in the same hemisphere, so long-distance travel and time-zone changes wasn't much of a factor.
Yet, the team has underachieved this time around, failing to score and stop goals at vital times.
Coaches love to use that tried-and-true soccer cliché: goals change games.
Indeed they do.
Well, goals change tournaments, and in the North Americans' case, they changed things dramatically, well before Wednesday's kickoff.
Had the Mexicans not lost two leads to Germany, they would have walked away with three points instead of settling for only one in a 2-2 draw in their group opener and that would have changed their position in the group and their fate.
Actually, life got even worse in the 5-1 romp over Fiji as Club America striker Oribe Peralta, the goal-scoring hero of the 2012 gold medal team, suffered a broken nose, knocking him out of the competition. Peralta, incidentally, scored against Germany.
Needing a win against South Korea, Mexico needed all hands on deck. Midfielder Erick Gutierrez, who struck for four goals against Fiji, suffered an apparent ankle injury late in the first half and really never was that effective the rest of the way.
For the most part, the Koreans played a cautious game at Mane Garrincha Stadium in Brasilia, bunkering down and withstanding the Mexican pressure. Finally, Kwon Chang-hoon connected off a counterattack in the 77th minute and Mexico found itself desperately chasing the game and its tournament lives with time running out.
Without an experienced hand such as Peralta, the goal(s) never came. Hiriving Lozano, Pachuca's highly touted 21-year-old winger who was expected to do some damage in Brazil, did not start vs. Korea. As a second-half sub, Lozano did make much of an impact and was sent off with a straight red card for pushing a Korean player while grappling for the ball in the fourth minute of stoppage.
Not exactly the way you want to exit a big-time tournament.
Now, is it the end of the world that El Tri won't be able to defend its Olympic championship?
Certainly not.
It's a disappointment and an opportunity lost for more international glory.
But when you think you have it bad, someone else has it worse.
Just consider the plight of Brazil, five-time World Cup champions without a gold medal to show for its Olympic involvement over decades. The Brazilians' latest squad and the great Neymar, after a pair of scoreless draws, were trying to stave off an embarrassing first-round elimination against Group A leader Brazil later Wednesday night.
The Mexicans? They will always have London, and no one can take that away from them as the first CONCACAF soccer side to earn Olympic gold.
Now, it's onto the next challenge, which will be the CONCACAF hexagonal that kicks off in November. With Mexico already having already clinched a berth, Osorio will be in the enviable position of vetting some of the younger players for his team in the final two semifinal-round games and make sure the team is positioned to reach the World Cup
If, for some reason, Mexico doesn't secure one of the four berths for Russia, that would be the end of the world – as in end of the 2018 World Cup – in so many ways, that heads would roll at the federation.
Now that would be a major scandal and a crisis and would make people forget what transpired in Brazil in a heartbeat.