Rio 2016: For boxer Nico Hernandez, the Road to the Olympics took a few hairpin turns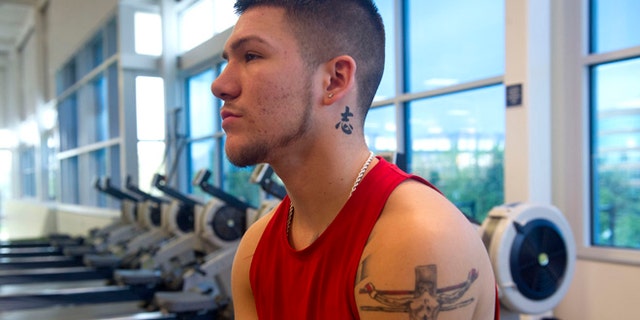 NEWYou can now listen to Fox News articles!
If you want to know where Nico Hernandez comes from, or where he's going, all you have to do is look at his tattoos.
The ink on his skin acts as a sort of road map, from the "316" on his right calf – the area code of his hometown of Wichita, Kansas – to the newest tat on his shoulder of a boxer kneeling in the ring, an all-caps "USA" on his shorts.
sidebar
Name: Nico Hernandez
Age: 20
Discipline: Boxing
Division: Light flyweight
Begins competition: 8/6
"Every time I get in the ring," the light flyweight fighter who is in Rio de Janeiro to represent the U.S. at the Olympic Games told the Wichita Eagle, "I get on my knees and say a prayer to God."
For Hernandez, 20, the road to getting that tattoo – and to Rio – took a few hairpin turns.
Qualifying for Team USA in boxing can be a little complicated – first you have to excel at U.S. Nationals, and then you have to prove yourself at an international event.
He finally made it after defeating Angelino Rafael Cordova of Venezuela and Lealdo Blanc of Argentina to reach the semifinals of the qualifying tournament.
Hernandez lost twice overseas before finally succeeding on his third opportunity, an Americas qualifier in Buenos Aires, Argentina, in March.
"I was trying to qualify, and I failed twice," he told Wichita station KAKE. "The first time I was like, 'Man, all right. I'm going to get it next time.' The second time, I didn't qualify again, and I was down. I didn't know if I wanted to keep doing it. But my dad talked to me and was like, 'Man, it's not over. You got one more chance.' I said, 'Yeah, you're right. Let's do it.' So I finally qualified. I was happy. And now I'm going to Rio."
"He was really discouraged," Nico's dad, Lewis Hernandez, told KAKE. "I just told him, 'Hold your head up, you know? You started at age 9. You've made accomplishments that nobody's ever made right now. You're doing things big.' I just said, 'If it's God's will, you'll be there.' It was His will, so he's there."
One of the biggest challenges Hernandez had to overcome to make it to Rio, in a way, was his hometown.
Lewis, who trained Nico at the Northside 316 gym he converted from a fire station, had to work hard to schedule quality fight partners for his son.
USA Boxing coach Billy Walsh, for one, noticed Hernandez's background, telling KAKE, "One in a million, really, to come from such an area. Obviously his father has a background as a boxer and boxing coach. He has a massive influence on that happening. But again I think Nico has to take a lot of credit for having that ambition and having that vision of becoming an Olympian and doing it at such a young age."
Hernandez has certainly experienced the stranger side of becoming a celebrity, being named one of the sexiest U.S. Olympians in Rio.
He has also already stepped into controversy after suggesting a few months ago on Twitter that he wouldn't want to come back for the 2020 Olympics because of USA Boxing's rules that prevent Lewis from coaching him while at the Games.
@NicoTheBoxer @ShakurStevenson Hang in there kids, the pro game is a circus to. Enjoy the moment your involved in. It's special. 2016 Rio.
"I just always thought two-time Olympian sounded cool," Hernandez told the Eagle. "The tweet came from my frustration that I'm not going to be able to train with my father as much as I want. The way I look at it, that's what got me here, so that's what I want to continue with. No offense to the [USA Boxing] coaches, but I have trained with my father my whole life. I feel like he knows me and knows how I box better than anyone."
And if you need confirmation of how important Hernandez's family is to him, all you have to do is read his tats – he has both his parents' names on his body. His mother's name, Chello, is surrounded by red roses.