Rio 2016: Field hockey team joker Melissa Gonzalez is dead serious about reaching podium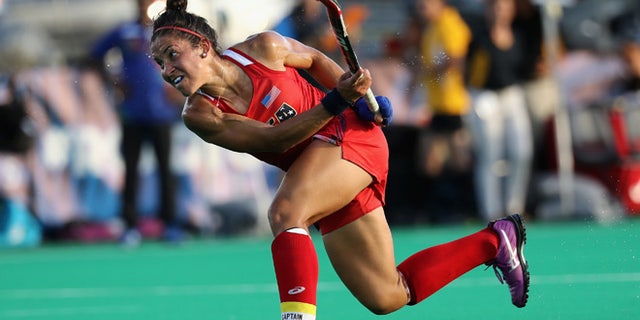 NEWYou can now listen to Fox News articles!
Midfielder Melissa Gonzalez and the rest of the U.S. women's field hockey team long to end a 32-year medal drought in Rio de Janeiro.
Gonzalez, a standout player at the University of Connecticut, where she graduated in 2011, has helped lead the U.S. squad to gold at the 2015 Pan American Games and the 2014 Champions Challenge in Scotland, and is now hoping to parlay that success to an Olympic gold.
The New York native, who is the youngest of four sisters, has a tattoo on her foot that says "love" with a heart and halo as a personal memorial to her father, who passed away when she was only 17. In addition to the tattoo, Gonzalez also trains with a sweatband that bears her father's initials, "F.G."
AT A GLANCE
Name: Melissa Gonzalez
Age: 27
Discipline: Field Hockey
Position: Midfielder
Begins competition: USA v. Argentina, Sat. 8/6
Gonzalez is now co-captain of the U.S. national team, and she is making her second Olympic appearance and has one of the deepest resumés of anyone on the squad. While playing for UConn, she was a two-time NFHCA first-team All-American and the recipient of back-to-back Big East Defensive Player of the Year.
"I am grateful for anyone who has given me an opportunity," Gonzalez said, according to UConn Daily. "I've been fortunate that a lot of people have extended themselves for me, not even necessarily about field hockey but about life. UConn, the staff, and my teammates were integral in shaping me as a person and player, nurturing my never-give-up attitude."
According to teammates, Gonzalez's attitude on the field is matched by her sense of humor in the locker room.
"I think we all agree that Melissa Gonzalez is the team comedian," said defender Stefanie Fee, according to Lancaster Online. "She may push the jokes to inappropriate levels sometimes, but she always brings a smile to our faces and can bring levity to any situation."
Gonzalez joined the U.S. team in 2010. She was on the 2012 Olympic team that finished a disappointing 12th in London.
That outcome, however, sparked a renewed sense drive and determination among Gonzalez and her teammates. While Gonzalez says she takes her role on the team very seriously, she also knows that keeping things jovial can help the squad gel.
"For me, it's just about keeping things light," said the 27-year-old, "so any opportunity I can bust someone's chops or really haggle them, I really jump at ... This is a four-year journey, and it's been difficult to kind of keep your eyes on the prize."
While this year's Olympic squad seems to be the best positioned in decades to medal, they have a tough road ahead of them. The U.S. team will first have to make it out of Pool B, which includes the No. 2-ranked team in the world in Argentina and No. 3Australia, along with Great Britain, Japan, and India.
Like us on Facebook
Follow us on Twitter & Instagram