Republic of Ireland leave Bosnia-Herzegovina with vital away goal in Euro playoff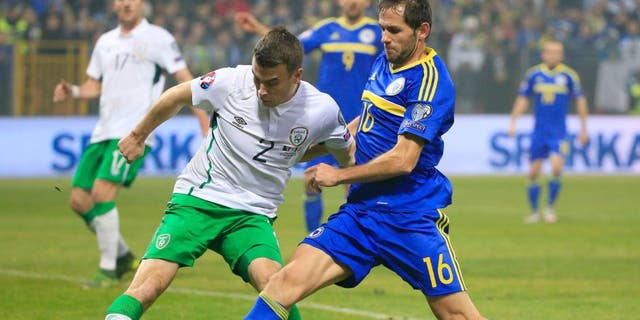 Even with the concession of a late goal, for Republic of Ireland, this was pretty much job done. It wasn't pretty -- as thick fog descended, much of it wasn't even visible -- but a 1-1 against Bosnia and Herzegovina in the Euro 2016 playoff sets it up perfectly for Monday's second leg in Dublin.
Jon Walters will return from suspension and bring with him a far greater attacking menace. And, thanks to Robbie Brady's 82nd minute strike, it has the away goal. For Bosnia, until Edin Dzeko's 85th minute equalizer, this was a hugely frustrating occasion.
Twice before it's featured in qualifying playoffs -- for the 2010 World Cup and Euro 2012, both times against Portugal -- and both times, there was a sense that the Republic of Ireland didn't quite do itself justice. It was a similar story here. For all that Ireland defended with diligence, Bosnia seemed oddly flat, lacking the verve that characterized it towards the end of qualifying when it overcame a poor start with five wins in its final six games.
It was a night when the atmosphere was rather better than the game. The mist hung low over Bilino Polje, mingling with the smoke of the cevapi stands and thousands of cigarettes to cast everything in soft focus. By the second half, as banks rolled in from the nearby river, visibility was so bad it was almost impossible to see the far side of the pitch: a relief, some might say, given the ugly, uneventful nature of most of what had happened before halftime.
Behind one goal, a large shirtless man with a shaven head conducted the crowd in a relentless bouncing, flag-waving chorus. There is a reason Bosnia choose to play home games in Zenica rather than at the far larger Kosevo stadium in Sarajevo and it is the atmosphere. Many have suggested it's intimidating but that's not quite right because there's no sense of menace. What there is, though, is fervor and, in a nation that, 20 years after the Dayton Peace Agreement, remains uneasy with itself, a sense of patriotic pride.
The Bosnia coach Mehmed Bazdarevic had sprung a major surprise by leaving out Sead Kolasinac and Haris Medunjanin, seemingly because he felt Edin Cocalic was better equipped to counter the sort of long ball with which Ireland undid Germany. That Ireland didn't trouble Bosnia in that way perhaps vindicated him, but the sense was that the change cost the home side fluidity.
Ireland's intentions were clear form the off. They sat deep, they took as long as possible over set-plays and they whacked it long in the vague direction of Daryl Murphy. Retaining possession seemed beyond it and, for long spells, Bosnia dominated the ball. Its build-up was slow and methodical and, for long spells, fairly unthreatening, even if a couple of corners, surprisingly, caused panic in the Ireland box.
Almost everything was routed through Miralem Pjanic, and it was when he linked with the right-winger Edin Visca that Bosnia looked at its most threatening -- although his crossing too often let him down. In that sense, he embodied Bosnia: The flicker of menace that never really materialized. Slowly half-chances did begin to materialize. Vedad Ibisevic diverted a Visca cross into the side-netting and the winger dragged a snapshot wide after a Dzeko cross had broken to him at the edge of the box.
As visibility worsened, the game took on a slightly unreal air. The players, perhaps, could see the full pitch, but no fan could, and the result was weird silences as fans in one part of the ground waited for noise from elsewhere to offer a clue as to what was happening.
Then, quite abruptly, on the hour there was a chance, as a challenge on the edge of the Ireland box ricocheted to Senad Lulic. He hesitated slightly, and Darren Randolph flew from his line to stifle his attempted chip.
Ireland's chances had amounted to one Daryl Murphy header early in the second half, as a cross emerged from the murk to find his head. His effort back across goal, though, looped just too high, rather confirming the impression that Bosnia may be vulnerable to the crossed ball. But then, with eight minutes to go, Brady cut in from the right and scored with a low shot in at Asmir Begovic's near post.
It looked like being the perfect smash and garb but three minutes later the substitute Ognjen Vranjes got away form James McClean on the right and crossed low for Dzeko to score from the edge of the six-yard box.
That changed the mood, and gave Bosnia hope, but a 1-1 draw still gives Ireland the edge.
Information from FOXSoccer.com's newswire services contributed to this report.