Reports: Arizona LB Wright has surgery, hopes to return within a month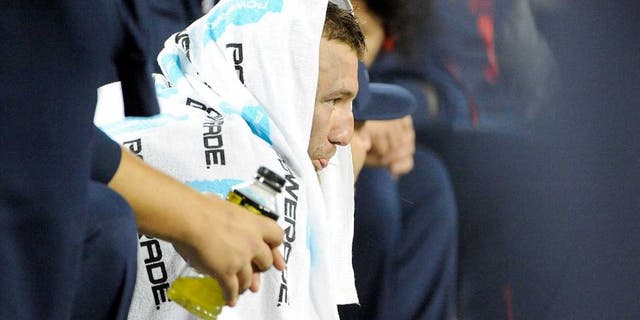 Arizona All-American linebacker Scooby Wright has had knee surgery and hopes to return within a month, according to reports.
Wright reportedly suffered a lateral meniscus tear in his left knee, which occured in the 22nd-ranked Wildcats' 42-32 season-opening win over UTSA on Thursday night. The junior standout was injured in the first quarter and tried to return later in the quarter, but came off again. He remained on the bench with his knee wrapped in ice and returned in the second half in street clothes, walking with a cane to support his left leg.
Even before Wright went down, Arizona's defense struggled. The Wildcats scored two defensive touchdowns, but gave up 525 total yards to UTSA, which returned two offensive starters.
A former two-star recruit, Wright swept the Nagurski Trophy, Lombardi Award and the Bednarik Award as the nation's top defender last season. He also was the Pac-12 defensive player of the year and a consensus All-American.