Report: Khloe afraid to divorce Odom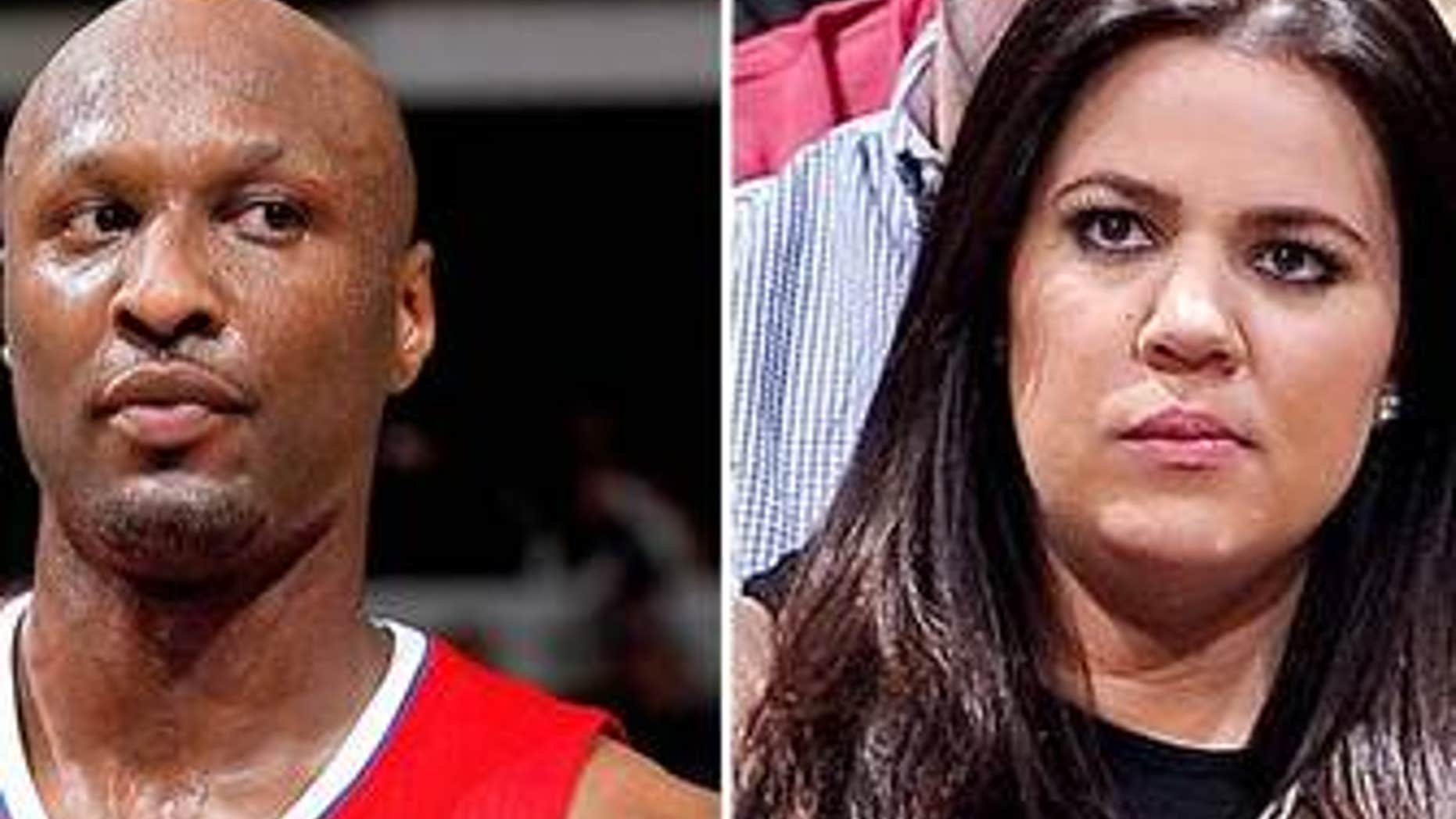 Her marital troubles with Lamar Odom have convinced Khloe Kardashian to get a divorce, but she's hesitant to do it for fear it might drive Odom to overdose or commit suicide, TMZ reports .
Odom met with his estranged wife at the couple's home last week, and their showdown over his alleged drug use was the "last straw," TMZ reported. While the two were spotted out together for the first time in months on Tuesday , reportedly driving to mom Kris Jenner's home to lend support following her split with Bruce Jenner after 22 years of marriage, sources told TMZ that Kardashian has given up on her marriage, too.
She opened up on Sunday's episode of "Keeping Up With the Kardashians", calling her husband "a very depressed person" and saying that "nothing's really working."
Odom appeared tired, gaunt and "out of it" when he showed up at their Tarzana, Calif. home promising to kick his drug habit on his own, a source told TMZ. But Kardashian insisted he go to rehab and kicked him out when she found a pipe and what appeared to be a stash of drugs.
Odom mostly has stayed silent this summer amid reports of drug abuse, a DUI arrest , a trip to rehab and the rumored breakup of his marriage , although on July 12 he tweeted in part, "Wifey is real," an apparent reference to Kardashian, and in his most recent tweet he praised the "family that I married into" as "the ONLY ones that have been here consistently 4 me during this dark time. Only person 2 blame is myself."
Odom, who played for the Los Angeles Clippers last season, is a free agent and has yet to sign with a team. NBA training camps opened last week.
He pleaded not guilty to a misdemeanor count of driving under the influence Wednesday in connection with his arrest in August. A pretrial hearing was set for Nov. 8.
The DUI charge against the 33-year-old includes an allegation that Odom refused to take a chemical test. According to California law, a motorist forfeits their license for a year if they refuse a breath or blood test.
He was arrested Aug. 30 after his Mercedes-Benz SUV was spotted weaving on a freeway in the Studio City section of Los Angeles. The California Highway Patrol said Odom's vehicle was observed traveling in a ''serpentine manner.''
Odom remains free on $15,000 bail. He could face six months in jail and a $1,000 fine if convicted.
The Associated Press contributed to this report.