Rasmus makes history by accepting Astros' qualifying offer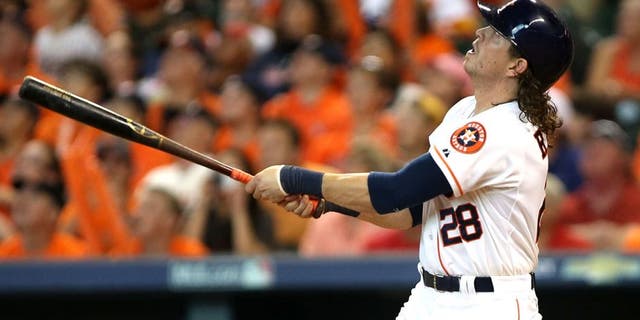 BOCA RATON, Fla. -- A player agreed to accept a qualifying offer for the first time in the four-year history of the compensation system rather than remain a free agent.
Outfielder Colby Rasmus agreed to accept Houston's $15.8 million qualifying offer, the team said Friday. The news first was reported by FOX Sports Insider Ken Rosenthal on Thursday.
None of the 34 qualifying offers was accepted in the first three years of baseball's current collective bargaining agreement, and 20 more were made last week. The deadline is Friday 5 p.m. EST and among the players facing decisions are second baseman Daniel Murphy (Mets) and pitcher Marco Estrada (Blue Jays).
The qualifying offer salary is determined by the average of the highest 125 contracts in the major leagues. When a player fails to accept a qualifying offer and signs a big-league contract elsewhere before June's amateur draft, his former team gets an additional high selection as compensation. Because the signing club loses a top pick, the market has slowed for some less-than-prime free agents.
The 29-year-old Rasmus hit .238 with a career-high 25 homers and 61 RBI in his first season with the Astros. He had seven homers over 27 at-bats in his last nine games, including four in six postseason games.
On Tuesday, Commissioner Rob Manfred defended the system.
"The fact that players say no, go out into the market and get contracts even though the signing club is giving up a draft choice kind of says to me we got it right," he said. "So I don't think that you need somebody to accept. I think that so far we have successfully identified a group of players who were significant losses for the teams they were leaving and were high enough quality that they could bear the burden of draft-choice compensation in the market and still get a good contract."
Players and owners will re-examine free agent compensation during negotiations that start early next year for a collective bargaining agreement to replace the current deal, which expires on Dec. 1, 2016.
"We have and will continue to evaluate all provisions in the CBA as part of the upcoming negotiation," players' association head Tony Clark said Thursday.
Murphy, who homered in a record six straight postseason games, would take up more than 10 percent of the Mets' 2016 payroll if he accepts.
"Financially and roster-wise, he's a big part of who we were and kind of what we need going forward, so we have to see what happens there," Ricco said.
And qualifying offer decisions could have a ripple effect.
"If players accept, it might change available dollars," Pittsburgh GM Neal Huntington said.