Rangers not opposed to making catching upgrade before 2016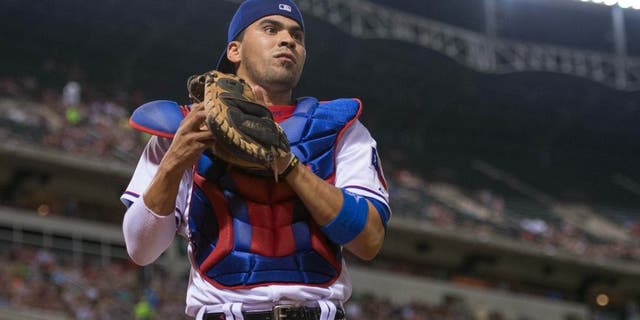 The Texas Rangers used journeyman catcher Chris Gimenez in their lineup for parts of the ALDS against the Toronto Blue Jays. While Gimenez hit pretty well for the Rangers down the stretch (.255/.330/.490 with a career-high five home runs and 14 RBI playing for the injured Robinson Chirinos), the fact that he was their de facto No. 1 backstop in the postseason was not exactly a best-case scenario for the club.
That's probably why GM Jon Daniels is quoted by MLB.com's Brian McTaggart this week as having said that the team will 'explore' an upgrade this offseason if one presents itself. Said Daniels to that effect:
The Rangers are said to believe in Chirinos as a full-time catcher, but he has two things going against himself in that conversation: age (31) and his injury-prone nature. Chirinos managed just 78 games in 2015 as a result of a lingering shoulder issue. Offensively, he was hit-or-miss (literally), hitting .232/.325/.438 with 10 home runs, 34 RBI and 62 strikeouts over a span of 233 official at-bats.
One player Sullivan suggests the Rangers could be 'in' on if the price is right is Matt Wieters of the Baltimore Orioles, who would hit free agency if he rejects the Orioles' qualifying offer.