Rams rookie teammates find their way back home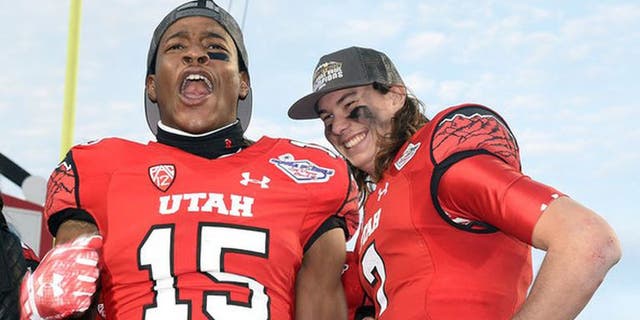 NEWYou can now listen to Fox News articles!
THOUSAND OAKS The Los Angeles Rams have a roster loaded with local talent.
Wide receivers Robert Woods(Serra HS) and Nelson Spruce(Westlake HS) made their names in SoCal, while new to the roster are two University of Utah teammates: undrafted rookies Travis Wilson, a QB turned tight end from San Clemente HS, and Dominique Hatfield, a DB from Crenshaw HS.
After passing for over 7,000 yards as a four-year starting quarterback for the Utes, the towering 6-foot-7 Wilson moved to tight end to achieve his dream of playing in the NFL. Wilson puton over 25 pounds of lean muscle since and feels confident in his ability at the new position.
Its been good, Wilson said about the transition to tight end. Playing a new position always has its difficulties, but Im starting to get the footwork down and playing the new position has given me this opportunity. So Im happy.
While a quarterback at Utah, Wilson was by no means just a pocket passer; in fact, Wilson was a fearless and physical runner, an attribute that has helped him in his transition.
I am still able to read the coverage and defenders movements, Wilson said, But now its my responsibility to know where to lineup in different packages and formations, and I feel good about it.
The Rams did draft a tight end with their first pick in the 2017 NFL Draft, but with Wilson'ssize and ability, the former Uteis excited about his opportunity going into training camp.
On the other side of the ball, rookie cornerback Dominique Hatfield, Wilsons former Utah teammate, feels comfortable in his transition to the NFL.
The biggest change in the game for me is the quarterbacks, Hatfield remarked. They can change their reads and throws in the middle of the snap count and change them again during the play, so just adjusting to how quick things change is the biggest difference.
The former Crenshaw star is happy to be back home in Los Angeles after spending four years in the brutal Utah winters.
This weather, Hatfield said with a big smile. You cant beat it. I couldnt put up with the snow anymore, but its good to know my whole family will be able to come watch my games again.
U [Utah] boys for life, Hatfield declared when talking about being teammates with Wilson again. Right when he found out I was coming to Los Angeles too, he offered me a place to stay, and it feels good to know someone has my back like that.
We not me is printed on the backs of almost every shirt around Rams practice facility at Cal Lutheran, and its clear the Rams are living out this slogan. Wilson and Hatfield are the epitome of what the organization is aiming for: one big family.